This post may contain affiliate links, which means we may earn a commission if you make a purchase. As an Amazon Associate we earn from qualifying purchases. Thank you for your support!
It's May, summer vacation season is just a few weeks away and the travel bug is biting me hard as I think about different places I want to go – So today I thought it might be fun to talk about how to start a travel journal – even if you don't have any immediate plans for adventure.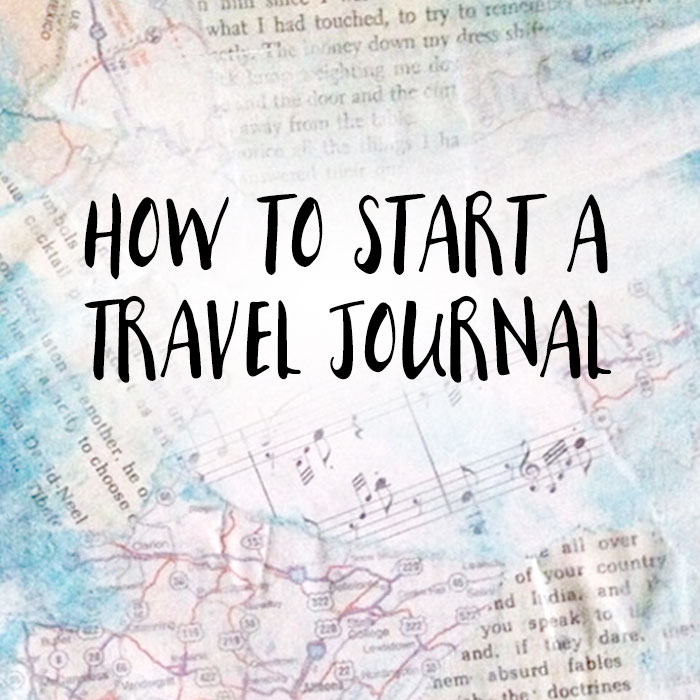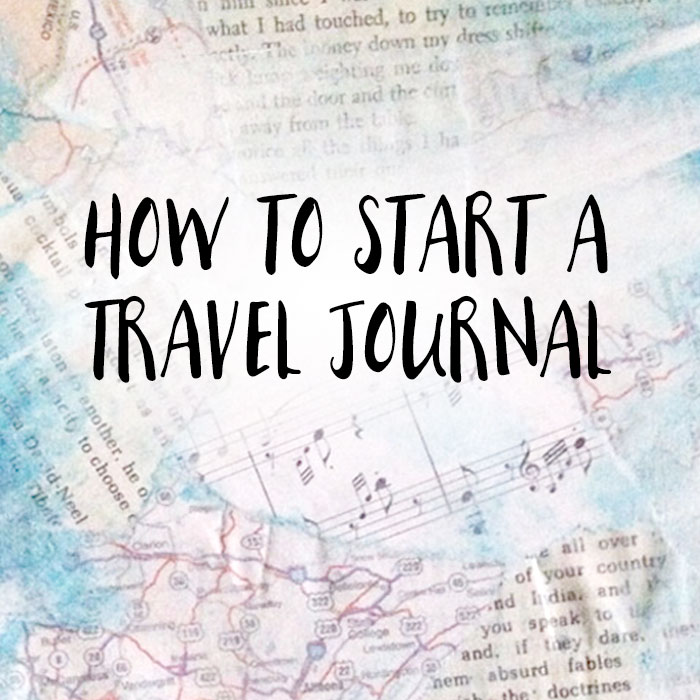 ---
Starting a travel journal isn't much different from starting any other kind of journal, but I do think there are a couple of things you can do to make the whole process a LOT more fun and way less stressful.
I know the hardest part of any type of new journal sometimes can be just getting started, so my hope is these 8 tips will help you get on the right path to decide what you want to do and what works best for you.
---
#1. There Are No Rules for What a Travel Journal Is or Has to Be or How to Use It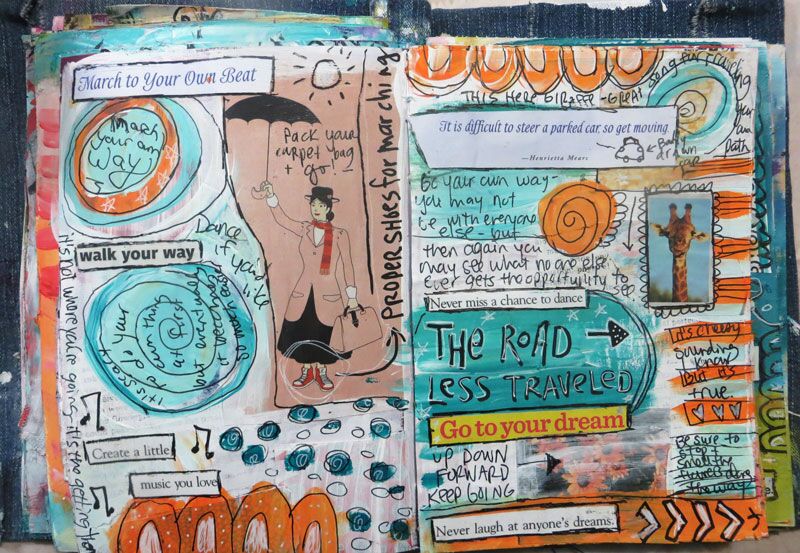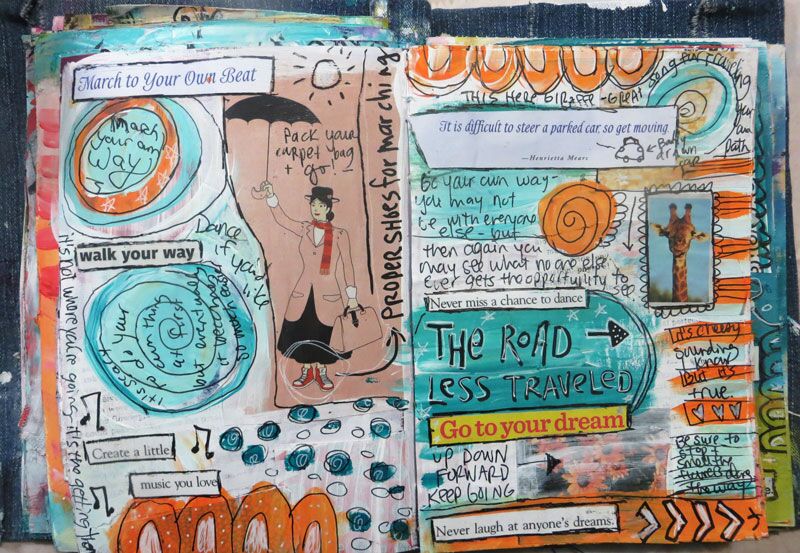 If you search for "travel journal" online – you'll find all sorts of different things and examples. You might see pretty planners, you might see scrapbooks, you might see junk journals, art journals, sketchbooks, traveler's notebooks, travel writing prompts, digital photo apps – and the list goes on.
Just trying to define what a travel journal is exactly can cause a lot of confusion! Fortunately, there really aren't any rules for what your personal method for documenting a trip looks like.
I know the title of this blog post says "8 Rules of the Road", but I assure that is only for alliterative purposes. There are NO rules when it comes to journaling. The only thing that matters is it is something you enjoy doing.
Your trips and adventures are unique to you – and so it only makes sense the way you want to document, record, or experience them would also be unique to you.
There's no wrong way to keep a travel journal, and don't worry about trying to make it look like the bazillion beautiful examples you might see online.
Don't feel like you have to make elaborate sketches if you can barely draw a stick figure. Don't worry about writing detailed journal entries of the day if writing is not your thing. You don't even have to collect ephemera if it's not something you enjoy.
Now this "rule" is out of the way, let's go to the next one – it might surprise you!
---
#2: You Don't Have to Go Somewhere Exotic to Enjoy a Travel Journal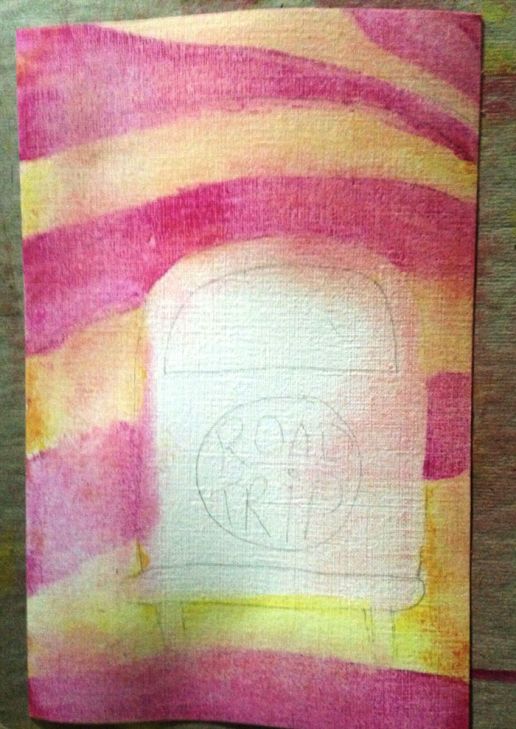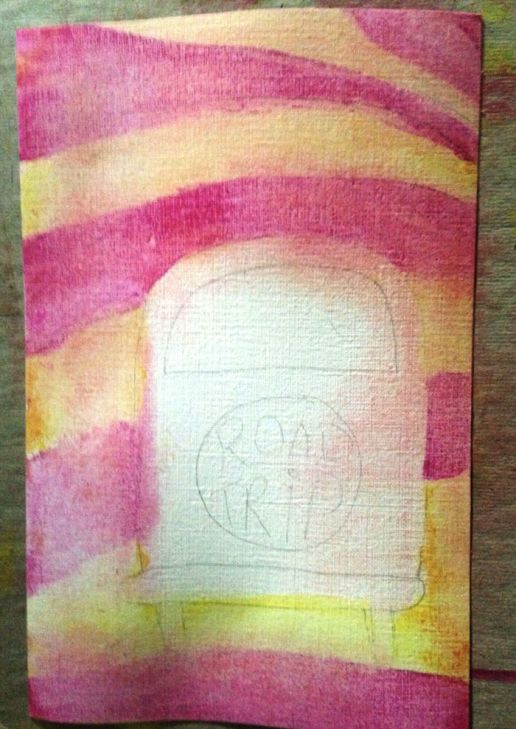 One of the biggest things that stopped me from starting travel journals in the past is that we weren't really traveling anywhere all that exciting.
Most people I know regularly go to all sorts of cool destinations. They tour Europe, they visit glaciers, they backpack & hike through canyons, they sip cocktails on the beaches of Mexico…
In contrast, we've been doing things like going camping and the occasional drive to Ohio and Philadelphia for family events. Considering we live in Pittsburgh, it's safe to say we weren't exactly jet-setting across the world – we barely left the turnpike!
If I actually do the math of how much I traveled in the past year, I think I covered more miles just by taking the kids to school every day and running errands.
Like Theodore Roosevelt is famous for saying, "Comparison is the thief of joy."
Don't get me wrong – I definitely do appreciate the few trips we've made in recent years. It just made me wonder, Who on earth am I to keep a travel journal? What would I even write in a travel journal if I wasn't going anywhere exciting?
And then, while on one of our camping trips I had a revelation when I stumbled across this little gem of a brochure for a place called Historic Pithole City.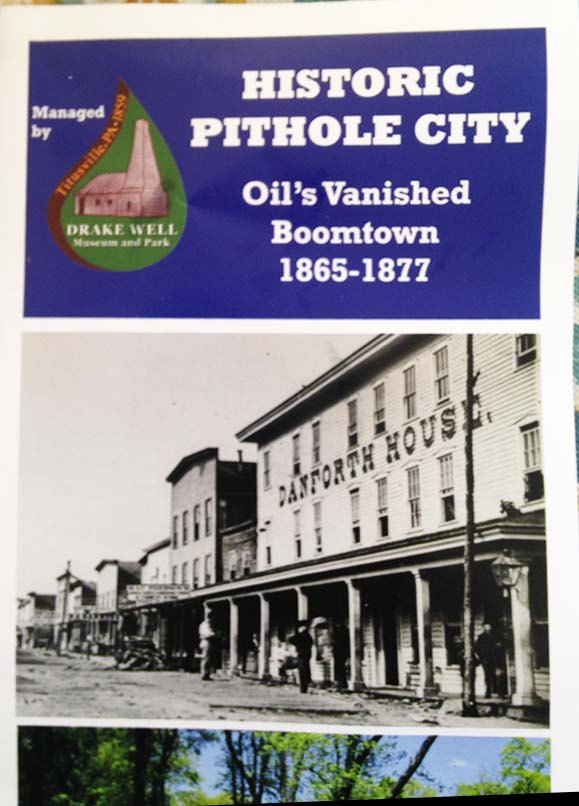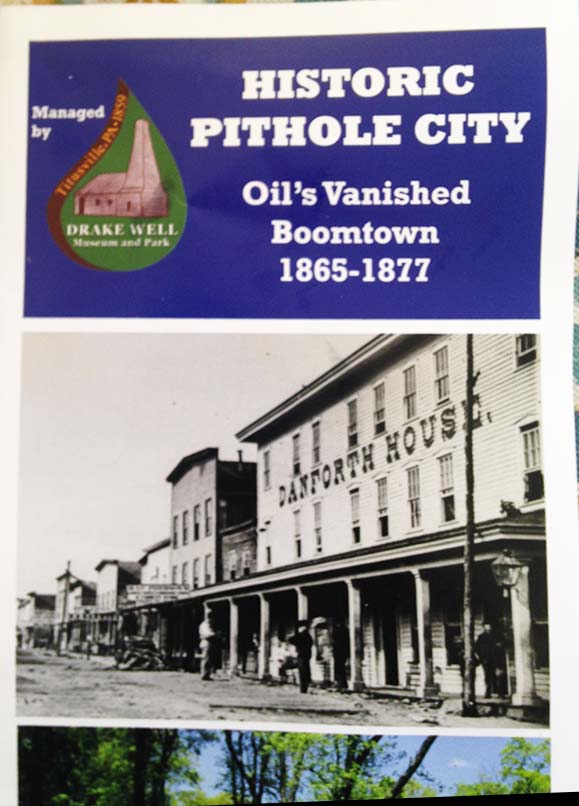 Yes, really, there is a place named Pithole city. Or rather, there was a place known as Pithole City. To be bluntly honest, it's not even a city. It's mostly just a field. A big, empty field.
This well-timed irony of a tourist attraction is what made me realize travel doesn't necessarily have to be somewhere exotic to be interesting or journal-worthy.
The site of a vanished ghost town might not exactly be Barbados, but that doesn't make it any less inspiring or not worthy of documenting.
This brochure helped me come to my senses and realize you don't have to go anywhere all that exotic to have a good time exploring the world. This brings me to the next important thing to remember when keeping a travel journal…
---
#3. You Are Here: Traveling is a State of Mind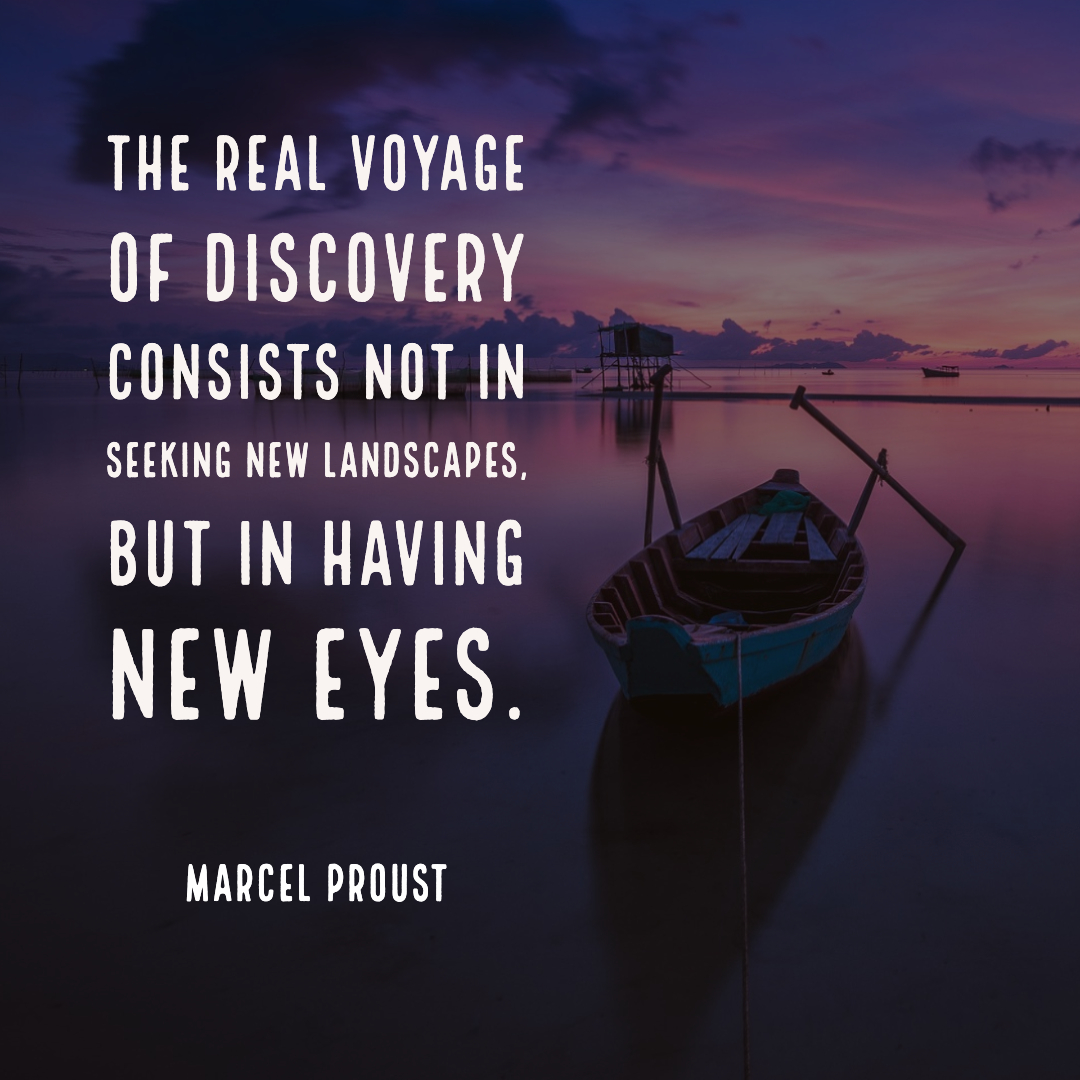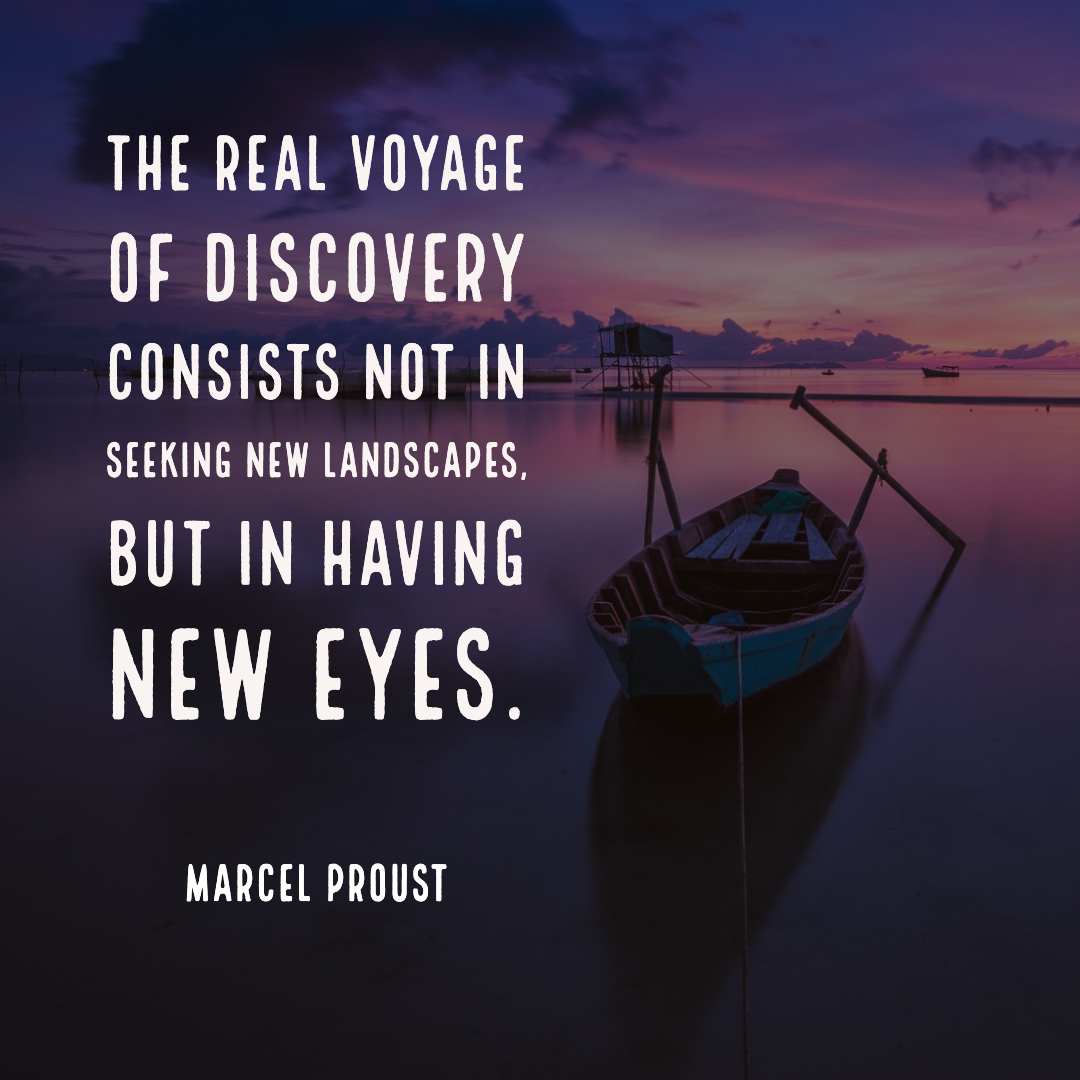 After my revelation that you can explore the world without trekking any far distances, I realized maybe travel isn't so much a physical place to be as much as it is a mental and emotional state of being.
It's the attitude of wonder, an insatiable curiosity, a desire to explore…and that of course is what makes a lot of us the creative artistic types of people that we are!
I really like the wisdom in this quote:
"The real voyage of discovery consists not in seeking new landscapes, but in having new eyes." – Marcel Proust
Realizing this made me really excited to make all sorts of different travel journals – no passport required. Best of all, should I eventually start making plans to visit more exciting places, I will have lots of practice because I love documenting and recording the different things I discover.
---
#4: Start Filling the Journal Before You Go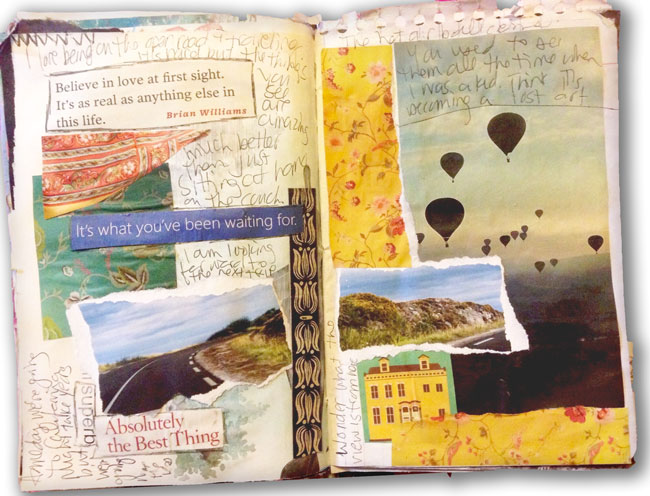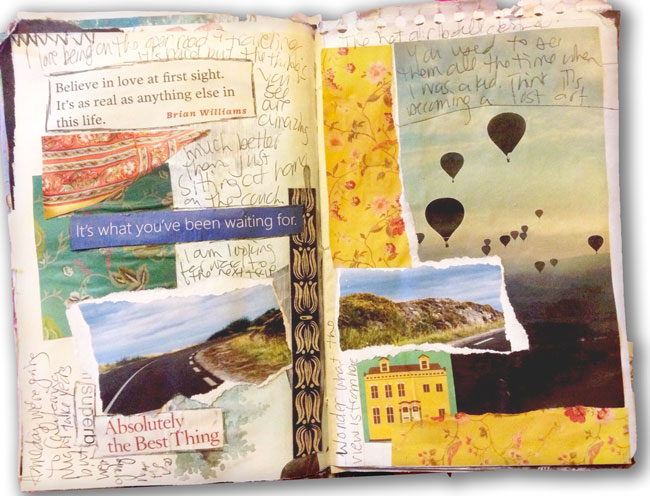 If you are anything like me and love any reason to start a new journal, there's no reason to wait to arrive at your destination!
Some trips can take months of planning and preparation, especially if you need to book far in advance around busy seasons and holidays. This is a great time to start documenting all those plans. To-do lists, checklists, lists of lists – these all make fun ways to get past a blank page.
The excitement and anticipation of planning a trip can be just as much fun as actually being on the trip, especially if it is a place you've always wanted to visit and you enjoy researching different places to see and things to do.
If you love the idea of a journal filled with pictures and artwork, you could even start filling the pages with different photos, vintage travel images, traveling quotes, etc long before you even leave. This can reduce the amount of things you need to take, especially if it's already on the page.
There are all sorts of great ways to start filling and prepping your journal ahead of time. You can also include printed out information for directions or flight information or simply just make some notes. All these things will be nice ways to remember what you did before the trip.
---
#5: You Don't Need to Bring Everything, Or Even Anything
Where you plan to go and how you are getting there is probably one of the biggest deciding factors on what kinds of journaling supplies you should pack or if you even want to pack anything.
I'm the kind of person who could have a beautifully prepped journal ready to go, and then forget it at home in the rush of getting 5 people in the family everywhere we need to be.
I'm also the kind of impromptu traveler who believes you truly only need to pack 3 things: Keys, Wallet, Phone.
While there are plenty of great art supplies and special journals perfect for traveling, don't be tempted to lug everything with you.
I'm a total minimalist when I go places – I would be quite content with nothing more than a composition notebook, a ball point pen and a glue stick in a backpack.
Note: If you are going to different countries, you will also definitely need to consider things like going through customs and making sure the things you bring in and out are not going to cause any issues. Sometimes it's easier to just get the supplies you want once you get there.
---
#6. Be a Collector
As someone who loves to collect all sorts of types of ephemera, I love picking up anything on my travels that can fit in a notebook. Marketing brochures, maps, ticket stubs, receipts, magazine and newspaper pages – if it's flat I'm going to put it in my journals.
These little things can really help you preserve a lot of memories you might not necessarily remember years from after the experience is over. It's also a great way to share your adventures with a friend.
One important thing to remember if traveling abroad and going through customs is many items such as food, plants, and other things can be heavily regulated. This is important to keep in mind, because some things might be better to just take a picture of rather than actually bring back with you.
You definitely don't want your journal confiscated, be detained for hours, or risk a $10,000 fine for having a seemingly innocent thing like an undeclared tea bag you forgot you taped onto a journal page!
If you are a U.S. Citizen and or visiting the U.S. from another country, you definitely want to make sure you are familiar with the CBP guidelines and regulations. It might even be helpful to include a checklist in your journal so you don't accidentally forget what things can and can't be brought back into the country or need to be inspected first.
Going through customs can sometimes be a stressful experience, but usually if you are prepared and familiar with all the different rules and regulations, you should be able to visit most places with relatively little issue.
---
#7. Don't Make Journaling a Chore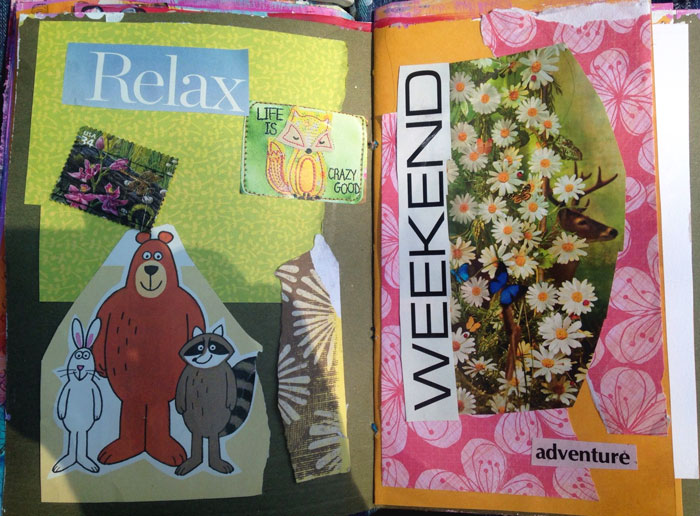 Everybody has different styles of how they like to travel. Some people like a trip jam-packed with a lot of activities, others might like a more laid back approach.
Some people like me consider journaling to be as essential as breathing, eating, and sleeping. Another person might think the thought of keeping a journal sounds too much like homework or a chore.
When you go somewhere new, it's important to not stress about whether or not you are actually able to write every single thing down or even have time to draw and write as much as you want.
For example, if you plan on painting with watercolors, it only makes sense to use a journal with mixed media or watercolor paper. If you mostly plan on making a smash-book junk-journal style book you could probably get away with a simple composition notebook.
It's all a matter of personal preference and what you plan to do – so don't stress it too much! Worse case scenario, you can always jot things down in a simple notebook while you're traveling and then transfer it over into something a little more cohesive and organized once you get back.
---
#8. You Can Always Add More Once You Arrive Back Home
In the spirit of packing minimal supplies and keeping things simple so you can actually enjoy the trip, another thing to remember is you can always add more to the journal once you are back home.
For sure it is better to capture and document as much as you can while the memories are fresh, but a lot of the "making it pretty" can be done once you are back home and have the luxuries of your favorite art supplies readily available.
Waiting until you get home to jot down some reflections on the trip and add in finishing touches like washi tape and stickers will give you a great opportunity to remember the moments that made it special.
Another thing you might want to do once you get back from the trip is actually print out any photos you may have taken and include them on your pages. A travel journal is a great way to motivate yourself to actually do something with all the photos you've taken!
---
Have you ever kept a travel journal? What are some of the things you do to make it easy and fun? What are some of the places you've traveled to? And of course if you have any travel journal tips you would like to share or questions I would love to hear from you in the comments section below!
Join our facebook group!
Share what you're creating and working on, ask questions + connect with over 4000 creative artjournalists for inspiration + ideas!