This post may contain affiliate links, which means we may earn a commission if you make a purchase. As an Amazon Associate we earn from qualifying purchases. Thank you for your support!
"What are the best journals for art journaling?" is one of the most frequently asked questions here at Artjournalist.
It's a question I am asked so often, I finally decided to put together a list of the exact journals I love using – updated with all of my favorites based on current journals available in 2019.
The journals and sketchbooks featured in this list always prove to be my favorites, year after year. Some of them simply continue to get better because they add new journal sizes, shapes, and paper types!
This Journal List Comes From 5 Years of Testing *Almost* Every Possible Art Journal
In making this list of what I consider to be some of the best art journals, I want you to know I personally have tested at least 45 different notebooks, sketchbooks, and journals in the past 5 years.
Every single one of these recommendations comes from experience.
Yeah, I'm a crazy notebook addict like that!
These are the journals that have proved to do well in all sorts of situations. They work great for regular everyday use, but they are also good choices for long trips and traveling.
I took several factors into consideration to ensure a well-rounded assortment of notebooks. I want to make sure these journals can meet the needs and creative dreams of almost anyone who enjoys art journaling – no matter how experienced you may be or what type of art supplies you like to use.
No matter which of these journals in my top list you pick, I promise you it is one I really put through some harsh conditions. Some of them I used before I even really understood what to do with things like gesso and matter medium.
If you take a look at some of my art journal failslike the one below, you're sure to understand I've really put the different notebooks and journals to the test!
In testing some of these I've done everything wrong. Thankfully, doing everything wrong is how I know which ones are really truly the best ones to pick!
My dog when she was a puppy even decided to try and eat one. She didn't do much damage to the journal, only a couple of small bite marks, which is more than I can say about other books she tried to eat or about 25 pairs of my kids shoes…
Needless to say, the ones I am recommending are really the journals that stand up to the test of time and some pretty harsh conditions!
Understanding What Matters Most When Buying an Art Journal
Before I go straight into sharing my favorite art journals, I think it is important to understand on what to look for in a good art journal.
This way, if you happen to be looking for a new art journal, you know what features to look for!
Hopefully once you understand these things, you will be able to tell very quickly whether a notebook will work for art journaling.
I know I am always tempted by new notebooks anytime I see them at the store. Understanding what makes one a good choice can really save you some headaches down the road.
These details all influenced which journals made the cut and which ones did not.
So let's talk about what matters when you are picking an art journal. Any journal can work, but if you're going to buy a journal, it helps to know what to look for.
It's very helpful to know what is going to work. This way you can make less mistakes and make more art that you enjoy creating.
Here's what I consider when looking at an art journal to buy:
1. Size: Small, Medium or Large?
For myself as well as many artists I know, size is a very important matter. Too smallof an art journal, and you might find yourself feeling limited.
Too bigof an art journal, and you might find it bulky to carry around or travel with easily.
I tend to like the "just right" size of somewhere in-between, but I know this can vary between one person to another.
For this reason, I've noted in each journal description if more than one size is available. Many journals are excellent options simply because they do offer multiple sizes and shapes to work in!
---
2. Paper Quality: Can it Withstand Paint, Glue and Ink?
This is a huge consideration when choosing an art journal. You need paper that can handle things like paint, ink and glue!
In the past, I have bought journals that claimed to be able to withstand some light watercolors, only to learn the pages were not suitable for any sort of water or paint.
If you don't mind wrinkled pages or work mostly in collage layers, thin paper may not bother you. For me, high quality paper that is able to withstand the test of watercolors, acrylic paint, and glue without wrinkling is essential.
---
3. Binding Method: Spiral bound or sewn binding or something else?
It's a long debated topic amongst people who love to art journal, although most of us love all journals enough that we'll likely try them all within our lifetime anyways!
Spiral bound journals can allow for more flexibility in moving around the pages. Sewn sewn binding journals can withstand a lot of wear and tear.
---
4. Price Point: What's the Best Value for Your Budget?
When I first started art journaling as a teenager, I had a zero dollar budget. I think the benefits of art journaling are so immense, it is something that should be easily accessible to everyone, regardless what their price and budget might be.
While I do list a couple of really nice options that are in the higher price ranges, I also made sure to include several that are typically available for under $15.
---
5. Personal Experience: Do They Pass the Test of Time?
Each and every one of these journals are ones I have personally tried and loved. The ones I recommend and share below are ones that have stood up to the test of time.
Most of them have even survived a curious hungry puppy and a couple of art journaling loving cats who live here!
I also took into consideration some of the opinions of my friends who love art journaling as much as I do, as well as average customer reviews and ratings.
This helps me take into consideration factors I might not necessarily think as "must have criteria" but ensures a well rounded viewpoint that is not completely biased.
---
These are My Top Picks for The Best Art Journals
FEATURES:Multiple Size and Shape Options Available, Heavy duty quality paper, Sewn binding, Pocket folder for ephemera and collage materials, Elastic closure, Heavy duty chipboard cover
BEST FOR: Acrylics, Watercolor, Inks, Markers
It's no secret I love these journals – I have gone through three of them just this past year!
With features that experienced artjournalists have been begging for over the years, these journals have an excellent starting price point!
They are made of rugged heavy duty paper and construction that is able to withstand a lot of mixed media favorite products, such as paint, water, inks, and markers.
If you like something super portable, the 5×8 size journal is a very nice option to carry around as a sketchbook that can also withstand wet media.
And yes, the Dylusions journal wins the award for "most likely to be destroyed by a puppy".
I couldn't believe my dog tried to eat it – I had it on a bookshelf that I thought was safely out of reach! Fortunately, the damage was minimal.
---
#2: Moleskine Artist Plus Sketchbook
FEATURES: 96 pages of 110lb acid free paper, three notebook size options, accordion notebook pocket, elastic closure, hard cover
BEST FOR:Acrylic, Collage, Water based markers, Pens and Ink Moleskine notebooks and journals have always been a popular choice amongst writers and artists.
The Moleskine Art Plus Sketchbook is a heavier duty version which offers 110lb acid free paper for working with a variety of different mediums.
You really can't ever go wrong with the Moleskine brand for notebooks. Even if it isn't suitable for creating with wet media, they are just sort of kinda amazing to write in. I love the
cashiers journals
for my everyday notes!
View on Amazon | Shop the Moleskine Website
---
#3: Canson XL Mixed Media Pads
FEATURES: Heavy weight slightly textured paper for acrylics and light watercolor applications, Spiral Binding with Tearable Sheets, Affordable Price Range
BEST FOR: Acrylics, Collage, Travel, Working Journals
The Canson XL Mix Media notebookis one of my favorites for beginner art journalists for a number of reasons.
The paper can withstand most mixed media applications, such as acrylic paints and creating works of many different layers.
If you like to use your journal on the go or would like the ability to separate art pages from the notebook, this gives you a lot of options with the spiral binding.
Multiple paper sizes are available, and if you prefer to work in watercolor, you may also wish to check out some of their watercolor paper as well!
When I create my own hand sewn journals, I often turn to Canson paper because it can be used for so many different applications.
View on Amazon
---
#4. Strathmore Mixed Media Journals
Features: Heavy duty cover, 90 lb. 100% cotton paper, Smyth-Sewn binding for pages to lay flat.
Best for:Acrylics, Watercolor, Water-based Markers
This Strathmore Mixed Media 500 series journalfeatures a hardcover and Smyth-sewn binding for pages that will lay flat. I first used this journal in 2014 and I still love creating in these.
One thing I will say about this journal is it took me some time to fall in love with it.
The 100% cotton paper is something I was not familiar with working with. However, it quickly grew on me once I realized how well it really worked with some of my favorite acrylic paints.
I also noticed that the cheaper craft paints seem to perform a lot better in this journal than they do in the others, and I suspect it has something to do with the cotton paper.
The pages also lay flat when you open the journal – which is great when creating 2 page spreads.
It does take some breaking in and getting used to due to the sturdy binding style, but it's also designed to hold up to the test of time!
View on Amazon
---
#5. How About Trying to Make Your Own Journal?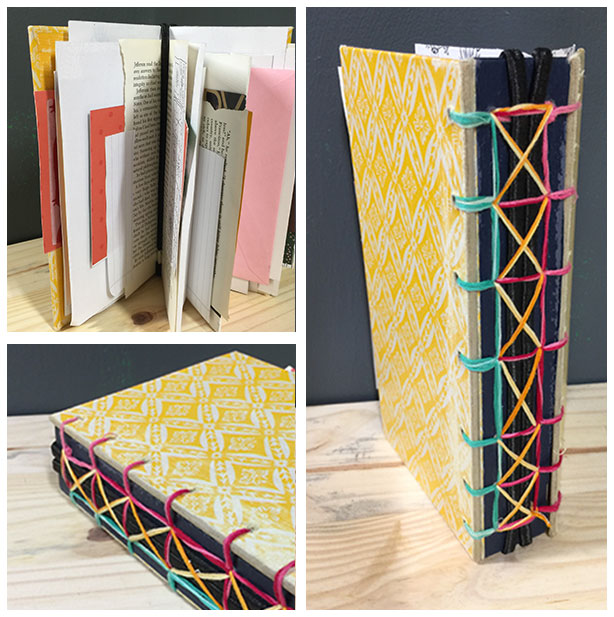 There are a lot of benefits to buying an art journal of course, but making your very own journal can be a lot of fun as well!
It's not nearly as difficult as it may seem, and if you are on a tight budget, you can likely create it with simple materials you already have at home.
This is a prototype journal I created using some interesting materials. It may not be the prettiest to look at yet (it is a prototype after all, so very "bare bones basic"!) – but that's the fun part of creating a junk journal!
The journal features pages you can reposition and assembly is easy – no sewing required!
This is one of my favorite journals I have made in the past 5 years of learning to bind my own books – so hopefully you will enjoy it!
And, if you're up to the challenge for a little more advanced bookbinding techniques, you can always try my Not-So-Stabby Journal or the Sewn Binding Blue Jean Journal technique I share on our site!
There are so many choices for the different things you can use as an art journal, and the journal you ultimately decide upon will of course depend on your personal preferences and the types of art mediums you create with.
There are a LOT of different factors to consider when you're choosing your art journal, and trying to really find the best ones out depends a LOT on what type of art you like to make and what mediums you use!
Everyone will likely have their own preferences, but hopefully this list of my favorite journals for art journaling will give you a lot of great options and ideas.
Whether you are new to the whole art journal world, or whether you are looking for something new to try, my hope is this post will help you navigate the sometimes overwhelming ocean of notebooks, sketchbooks, and journals available out there!
Last updated on May 24, 2023 11:11 pm
---
Share Your Thoughts: Which Journal is Your Favorite?
So many great journals featured in this list of the best art journals – it is only a matter of time and experimenting for you to decide which one you like best!
Do you have a favorite art journal? What are your thoughts? I'd love to hear what art journals you consider to be the best of the best in the comments section below!
Join our facebook group!
Share what you're creating and working on, ask questions + connect with over 4000 creative artjournalists for inspiration + ideas!