This post may contain affiliate links, which means we may earn a commission if you make a purchase. As an Amazon Associate we earn from qualifying purchases. Thank you for your support!
I am so in love with – and so excited to share with you – my latest art journal/junk journal binding technique to make these trifold junk journals!
I am seriously so in love with these trifold junk journals and I can't wait for you to try making them yourself because it is so fast, so easy and so simple!!! (And the journals are so cool with oodles of tabs and flaps and fold out pages!)
I am calling this the "trifold junk journal" binding technique because we are using junk mail letters or papers that are folded into thirds – but I really think I could call these the "OMG I LOVE THESE JOURNALS!™" – because I seriously am so in love with these!
It's kind of hard to explain in a blog post how awesome and amazing they are so I made not one…but TWO videos on my YouTube channel if you haven't seen it already that goes through the process step by step.
The first video shares the original inspiration + method, which uses junk mail. We get so much junk mail and they always send us these letters for credit card offers + stuff – and they are PERFECT for making these journals!
The paper quality of the junk mail is really the most astonishing part – it's this really nice thick paper that I can't even believe they would use for junk mail – it takes paint + wet media beautifully!
The second video I made uses the exact same technique, but I used coffee and tea dyed papers – so if you're looking for a more traditional/vintage style junk journal that should help you visualize what that would look like too!
How the Trifold Journals Are Made
These journals are made by folding our pages into thirds (or, in my case – using my junk mail that is already so conveniently folded into thirds for me!) – and then staggering each sheet so that when you go to bind them together you have all these tabs and folds!
They come together super easy and fast – you can either use my no sew binding method with elastic/rubber bands or you can do a pamphlet stitch – I run these through my sewing machine and they just come together so fast – I think I've made about 40 of these now!
Step 1: Prepare Ye Papers
You want about 6-8 pieces of paper to make the journal like I do in the videos, but of course you can use less – I probably wouldn't use more just because that will make it harder to sew together. You can always bind several of these together if you want a chunkier journal!
If you're using junk mail, simply unfold your trifold letters so you can stagger them together.
If you're using regular plain paper, you actually will want to fold them into thirds just like you would if you were going to put them in an envelope to mail them.
Step 2: Arrange the Papers to Make the Journal
Once the papers are ready, you're ready to arrange them! You can arrange these in so many ways, so don't think about it too much!
Here's a diagram to help visualize how this all goes together:
After making about 40 of these and playing around with so many different combinations, I think the best way to arrange them when you're just starting out is to stagger and alternate them – this will help give you a more balanced journal.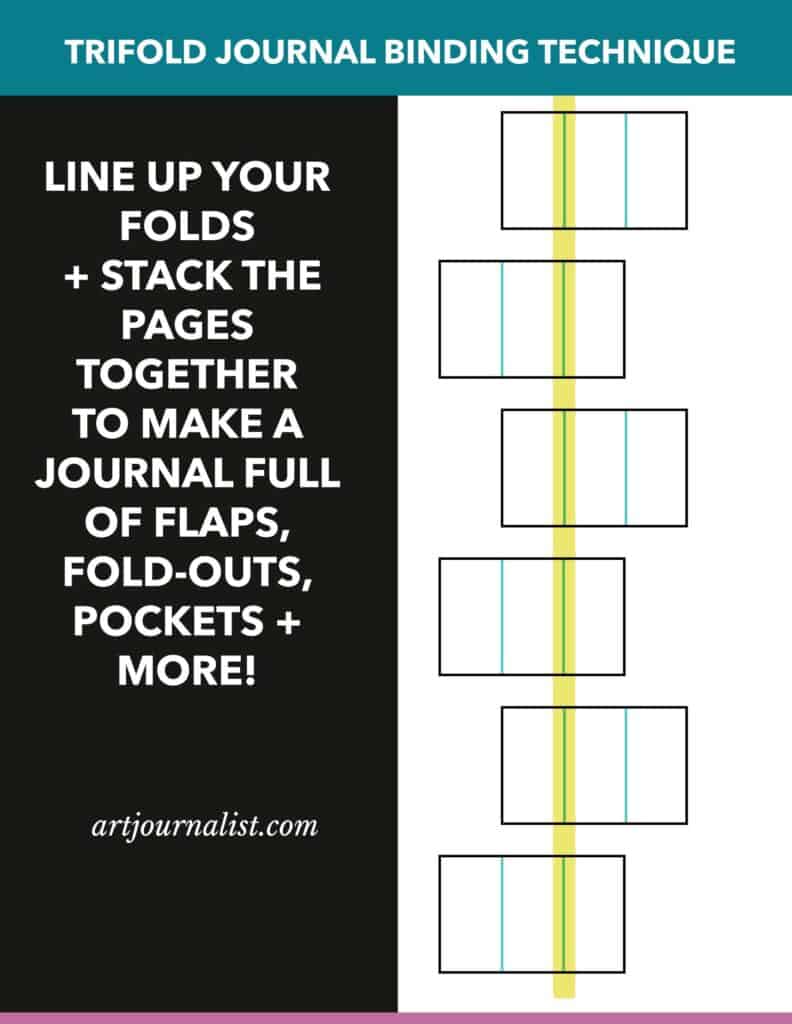 Basically, in this step, we're just going to line up all the papers so they have a shared fold. The videos really explain this best!
But of course – you can layer these up any way you like – you don't even have to stagger them and you'll still have an amazing journal!!
Once you have them lined up, you are ready to sew them together!
Step 3: Bind them Together
You can use any binding method – wrap an elastic band around them like we do in my no sew elastic band journals – or you can use a simple 3 hole pamphlet stitch.
I actually like to just run these through my sewing machine – seriously so fast and so easy! I just do a straight stitch right down the middle.
If you are using a sewing machine, you'll want to space your stitches apart as far as possible with as long of a stitch as possible if your machine lets you change those settings. If the holes are too close together it might make them more like perforated pages and so they will be more prone to tear.
Most machines can handle 6-8 pieces of paper no problem, if you are worried you can always start with just 3-4 sheets first. Making sure you have a nice sharp needle is a good idea too – I usually use a top stitch needle for these.
Step 4: Fold Those Pages!!!
Okay, so for me this is the most fun – I seriously could just do nothing with these journals but fold them!
Folding them is super simple – just tuck them in anyway you like!
You don't even have to decide right now what order you fold them in – you can always flip it around or make any page the cover!!
And that's it! You now have a journal!!! So versatile! So Awesome!
I am seriously SOOOOO in love with these – I could talk to you probably for hours about them – the flaps! The folds!
I'm not even big on folding paper (origami baffles me!) – but these are so fun to fold + you can fold in so many ways!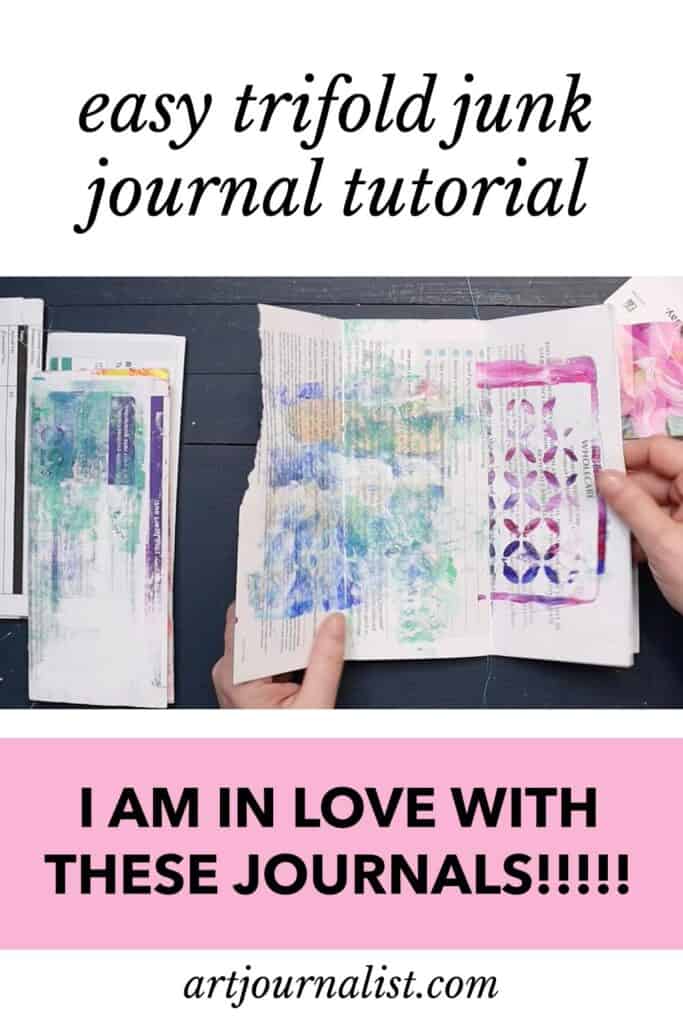 So Many Possibilities!!!
The possibilities on what you can do with these are endless!!!!
You could make glue books!
Use them as art journals!
Cover with scrapbook papers!
Use them as a base to make a journal of delicate vintage ephemera!
You could use them as signatures to make a super chunky journal!
You could use watercolor paper!
You could use bigger size sheets of paper! (Tabloid Size or a3!)
You could cut these in half and use less pages and just make fun little journal inserts!!!!
I seriously find these so inspiring and I hope you do too!
I have made a LOT of journals over the past 10 years and tried a LOT of different journal binding techniques and I really think I have to say this is my new favorite way to make a journal!
I am seriously in love with these journals and I hope you like making them as much as I do!
These journals are officially kicking off our 2022 End of Year Stash Busting Challenge and are a great way to use up your old papers, whether its gel prints, journal printables, scrapbook papers – and in my case – my junk mail!
We will be doing tons more with our junk mail so I hope you join the challenge – make sure you subscribe to our YouTube channel + join our Facebook group to stay updated (and inspired! And motivated!!!) – We are going to have so much fun!!!!!
I know I've already said it like 300 times…but…. I LOVE THESE JOURNALS!!!! They are so fun, so great – so easy and fast!!! I can't wait to see what you create with this technique!!!!
Join our facebook group!
Share what you're creating and working on, ask questions + connect with over 4000 creative artjournalists for inspiration + ideas!