This post may contain affiliate links, which means we may earn a commission if you make a purchase. As an Amazon Associate we earn from qualifying purchases. Thank you for your support!
This past week I've been busy making a Thanksgiving journal with one of my trifold junk journals I made out of old junk mail letters.
I've never made a Thanksgiving themed junk journal before but after reflecting on all the Thanksgivings in my life while I was making this journal, I'm pretty glad that I did!
Hopefully this flip-through video will inspire you to make your own – even if it's not something you'd normally make! And of course, it doesn't have to be a big, gigantic themed journal – a couple of pages is plenty!
You can also watch the video on YouTube if you like: Thanksgiving Day Journal Flip Through Video
What's Inside My Journal
One of the things I love about the trifold journals is they create so many different places for pockets and flaps that just fold out so nicely!
Here's a view of the journal with all the pages open – yes, it stands open by itself!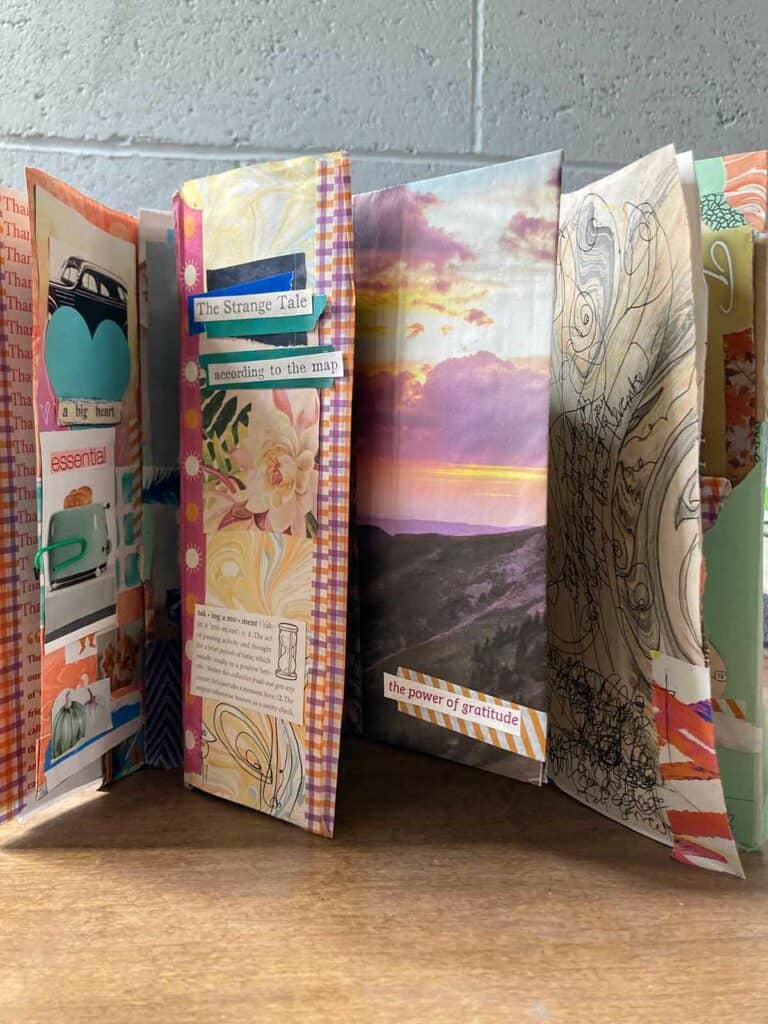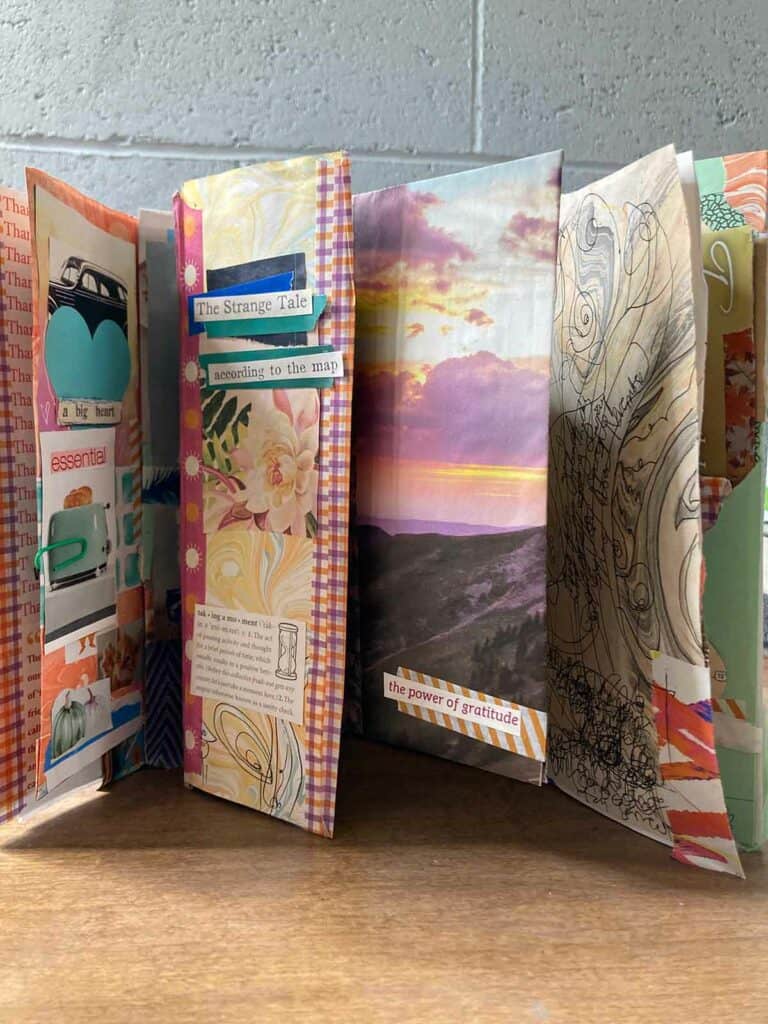 One thing I did learn in making this journal is that if I plan on doing a lot of collage instead of painting or want to bind several of these trifold signatures together into one journal, I will definitely want to use less pieces of paper for each signature!
It's such a thick, chunky journal once its filled up! (Not complaining!)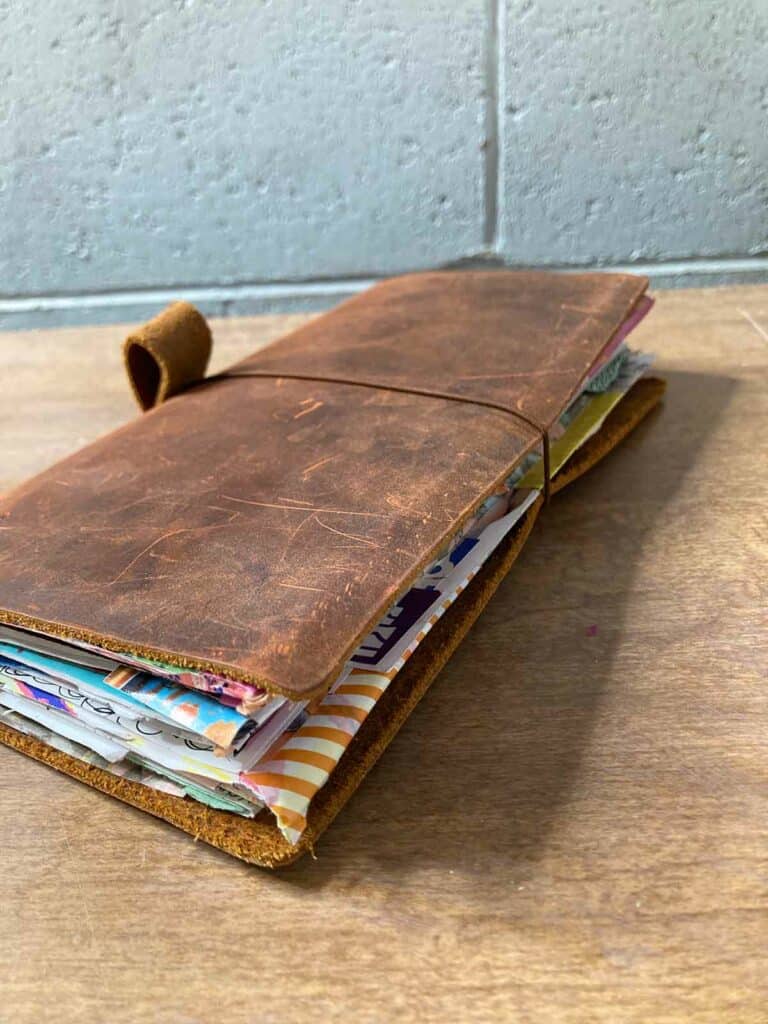 I used an old Traveler's Notebook cover that I had to use as a cover for this journal temporarily.
I probably will eventually make it a proper cover or might even bind a bunch more seasonal trifold journals together into one REALLY chunky book, but for now the temporary cover works for me!
This Journal Has A LOT Of Hidden Journaling
In the flip-through video I show a lot of the different ways and places and ways I used hidden journaling while making this journal.
I never really reflected on all the different Thanksgivings that I've had in my life and boy oh boy did a lot of thoughts surface out of the cobwebs of my mind!
In the first section I created a pocket and then some tags where I wrote about Thanksgiving 14 years ago – and Thanksgiving 20 years ago!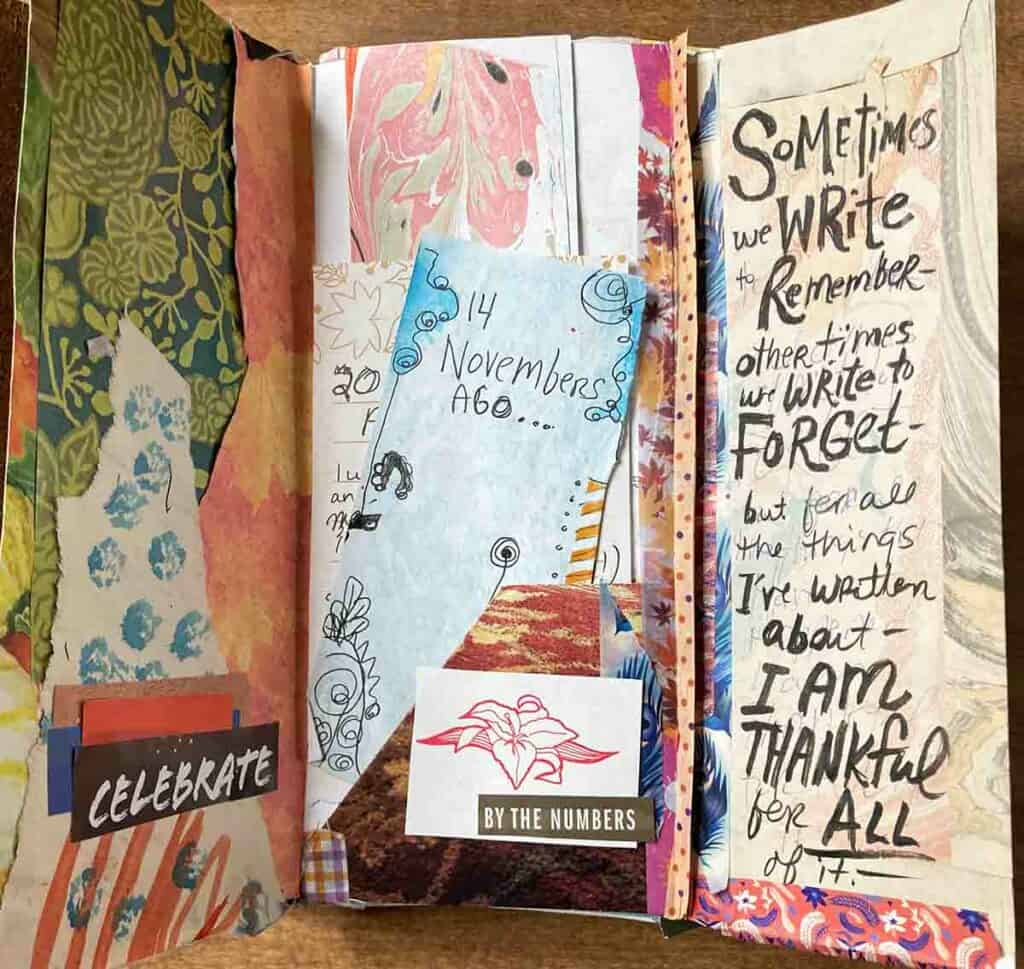 I love hidden journaling because it's not obvious to other people but I know its there!
Here's an example of some more hidden journaling in the background of the house I drew on one of the pages: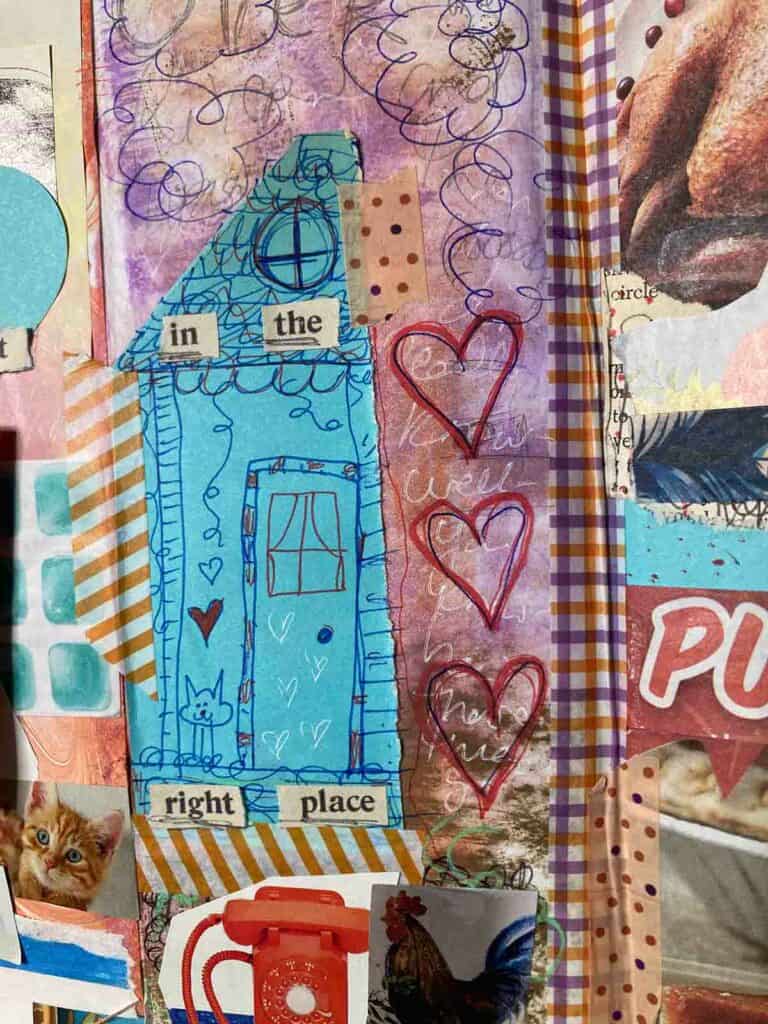 I had written on my junk mail just as it was and then covered it with some ink from some stamp pads I had.
While I'm sure stamping enthusiasts would be horrified by the thought, I like to actually just take a stamp pad and rub it along the pages. It gives you a lot of color quickly – without the hassles of waiting for paint to dry!
See my post on Hidden Journaling Techniques for even more ideas on ways you can journal without worrying about others reading it!
Strange Tales, Indeed
I was looking at some of my old books + pages that I had to see if I had anything to use that was Thanksgiving related. I didn't think I had much, if anything at all, but I actually discovered a story of the early settlers exploring North America.
For this page, I used a map from the book that sort of inspired all of the rest.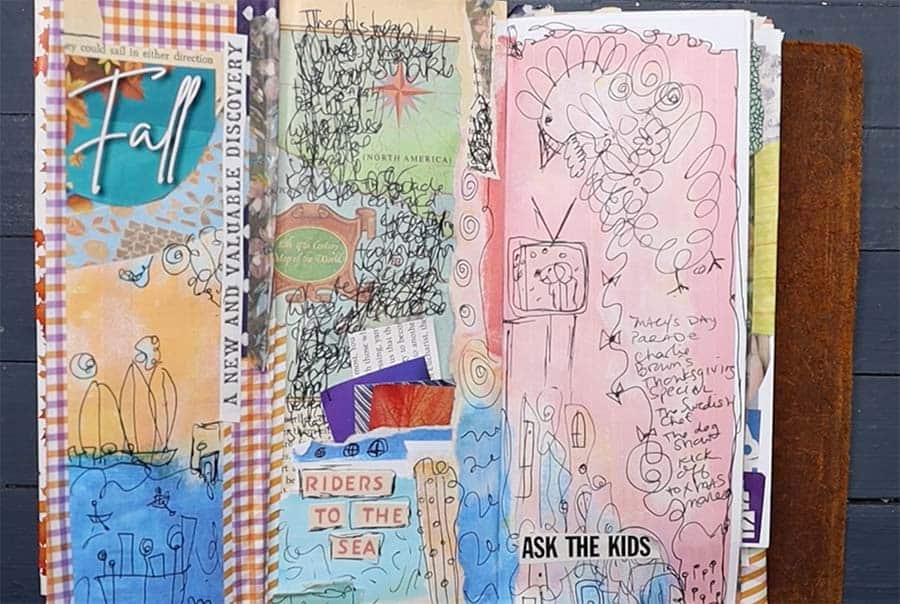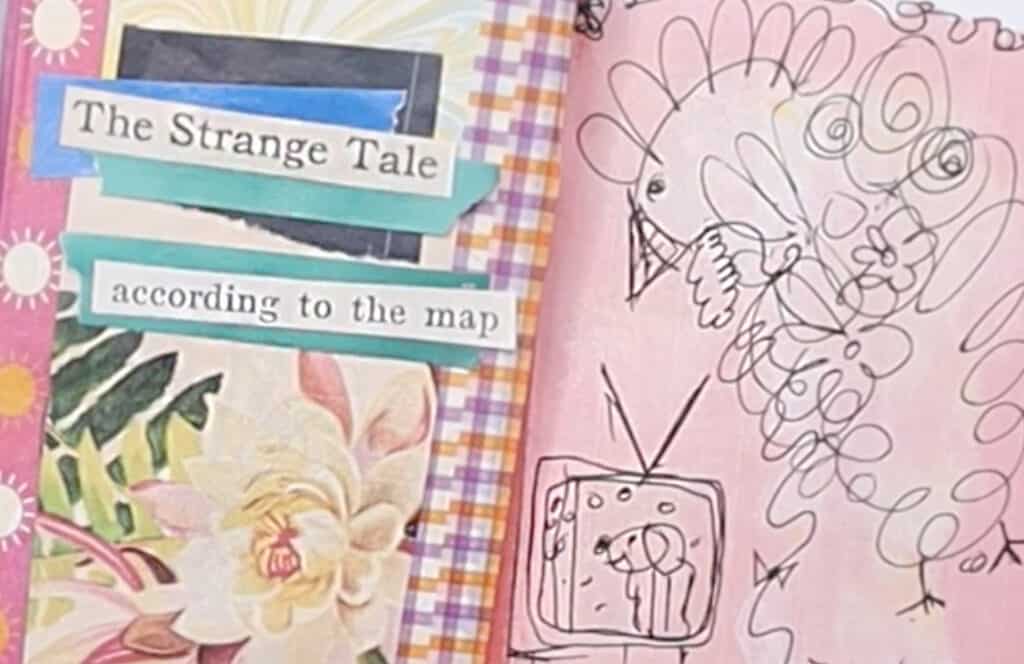 A Thanksgiving Glue Book Page
In true spirit of my love for gluebooks and my love for cutting up magazines – and as part of our End-Of-Year Stashbusting challenge – naturally I had to make a glue book page in the journal!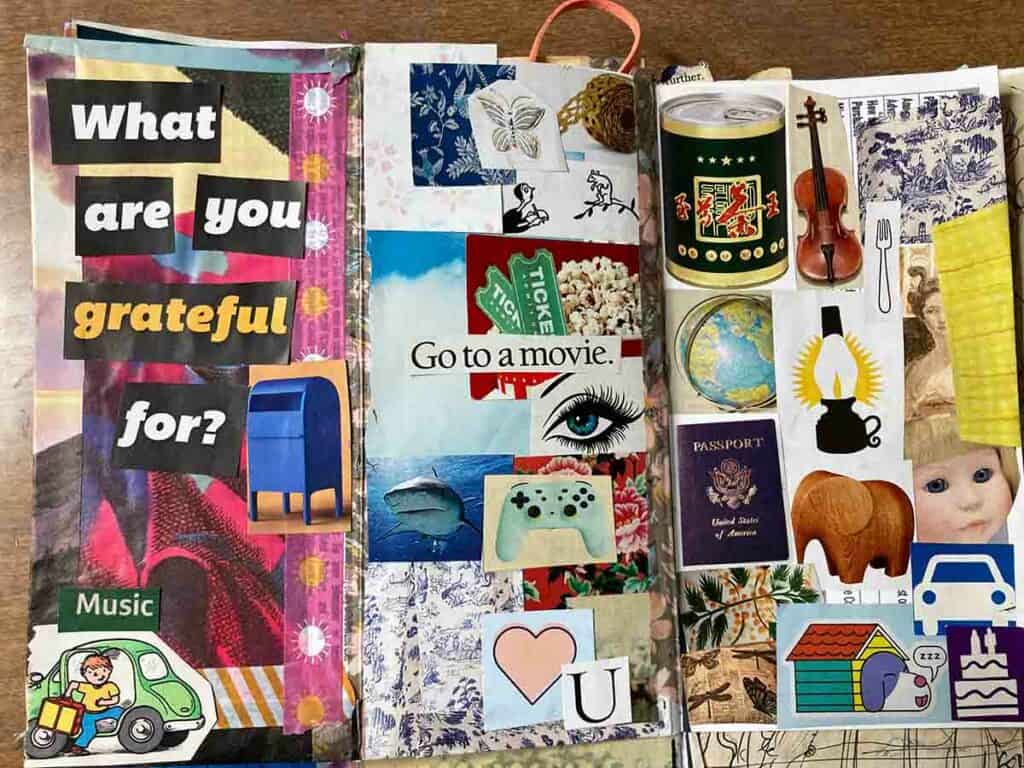 This page was made by just pasting down whatever magazine cut-outs that I had that sort of made me think of Thanksgiving memories and things I am grateful for.
It's a very strange and eclectic mix of things but every single image there definitely has some meaning in some way or another!
And, as a bonus, it used up almost all of my smallest magazine cut-outs that I had!
As I posted last week in how I'm setting up my 2023 seasonal gluebook as well as my plans on using several three ring-binders as journals, I'm excited to finally have a journal (or 5) for all future magazine cut-outs to have a place to go as soon as I cut them out!
I seriously am so grateful for all you who have supported our site through the years – and you're the whole reason I would have even made this journal in the first place! (I'm counting on you to help me stash-bust until the end of the year, remember?)
Have a happy, happy Turkey Day + Thanksgiving (or maybe just a nice Thursday for all of our International friends!)! I'd love to see what creative projects you're working on in our Facebook group or you can always just tell me about it in the comments below!
Join our facebook group!
Share what you're creating and working on, ask questions + connect with over 4000 creative artjournalists for inspiration + ideas!