This post may contain affiliate links, which means we may earn a commission if you make a purchase. As an Amazon Associate we earn from qualifying purchases. Thank you for your support!
So you've decided to start art journaling. You've read our Introduction to Art Journaling. You've gathered your supplies and materials.
And now, with paint brush in hand and notebook or paper in front of you, you're not sure what to create. Maybe you paint something, but aren't happy with it.
Or maybe you're doodling with a pen or a marker and it seems like your lines are all crooked, your handwriting is horrible, and you wonder if you even have any creativity or enough artistic talent to get started.
If you've ever been frozen like this when creating, you're not alone. Maybe negative self talk phrases start going through your head:
I'm not artistic enough. I don't have any creativity. My pages never turn out how I envision them! I can't find my style. I don't know what to art journal about. I can't do this by myself. What will others think of my work?
It's easy to worry that your page won't turn out the way you envision or that you'll make a mistake.
Well, today I am going to help you overcome that fear and tell your inner perfectionist and procrastinator goodbye.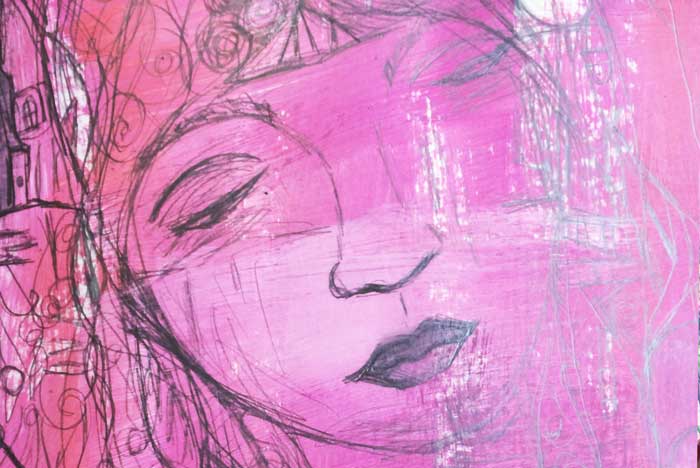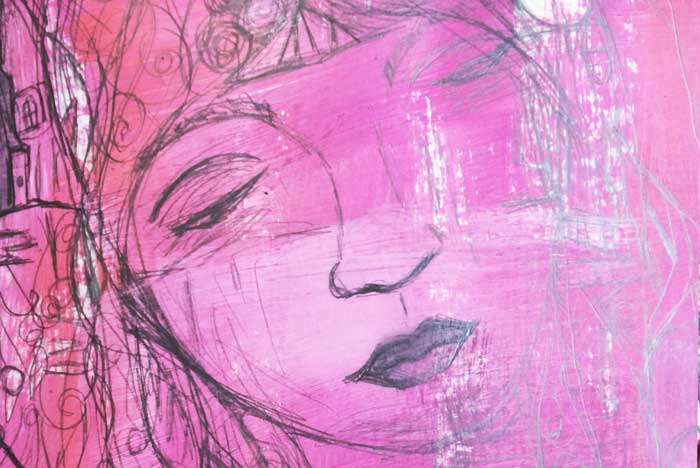 How to Overcome Fear & Perfectionism in Creativity
Let's address the common beliefs we have when we get frozen one at a time.
I'm not artistic enough. I don't have any creativity.
It's easy to be constantly told by others how creative and talented we might be – yet it's hard to believe. But I don't let that stop me.
Remember, art journaling is not about creating a final piece that is supposed to be an artistic masterpiece – it is supposed to be a means of expressing yourself. Talent and creativity are NOT required!
My pages never turn out how I envision them!
I have hundreds of art journal pages that didn't turn out anything like I had planned for them to. See my blog post on art journal fails for some examples. They might not be totally horrible, but they still aren't what I was trying to make!
That's just how it goes sometimes. Maybe I drew my lines crooked, maybe the paint splattered in the wrong spot, maybe my handwriting turned out terrible…you get the idea.
So what? It's okay. If anyone asks, tell them you intended it to look that way 🙂
You're going to make mistakes on your pages. One of the reasons I love gesso is because if I'm truly unhappy with how something turns out you can always paint over it and start fresh!
I can't find my style.
This is another one I hear again and again. Sometimes I've even been guilty of thinking this myself.
But, seriously, who said you needed to have one consistent style through all your pages?
Art journaling is about creating, and creating means experimenting. Try every style you can think of and can find on the internet and you feel inspired by!
I don't know what to art journal about.
This is one I get stuck on sometimes when I have a brand new fresh blank book in front of me. That's one of the reasons I created all of the art journaling prompts we have on this site!
There are so many things you can art journal about…and sometimes that is the hardest part – deciding on just one thing at a time!
Don't worry about keeping a specific theme in your altered book – if you have one you like great, but if not, randomness is okay too.
I can't do this by myself.
You don't have to! We created our Facebook Community so you can ask any questions you have along the way anytime.
I am also always adding new art journaling tips that will walk you through step by step some of my favorite art journaling techniques.
What will others think of my work?
Well, you only have to share what you feel comfortable with sharing! You don't have to share your pages unless you want to.
Some people will love your work and others may criticize it. I know not everyone loves the pages I make, some may find them too messy, unorganized, not artistic enough, etc. etc.
The good news is it really doesn't matter. For every person you meet who hates what you make, there's somebody out there who will love it.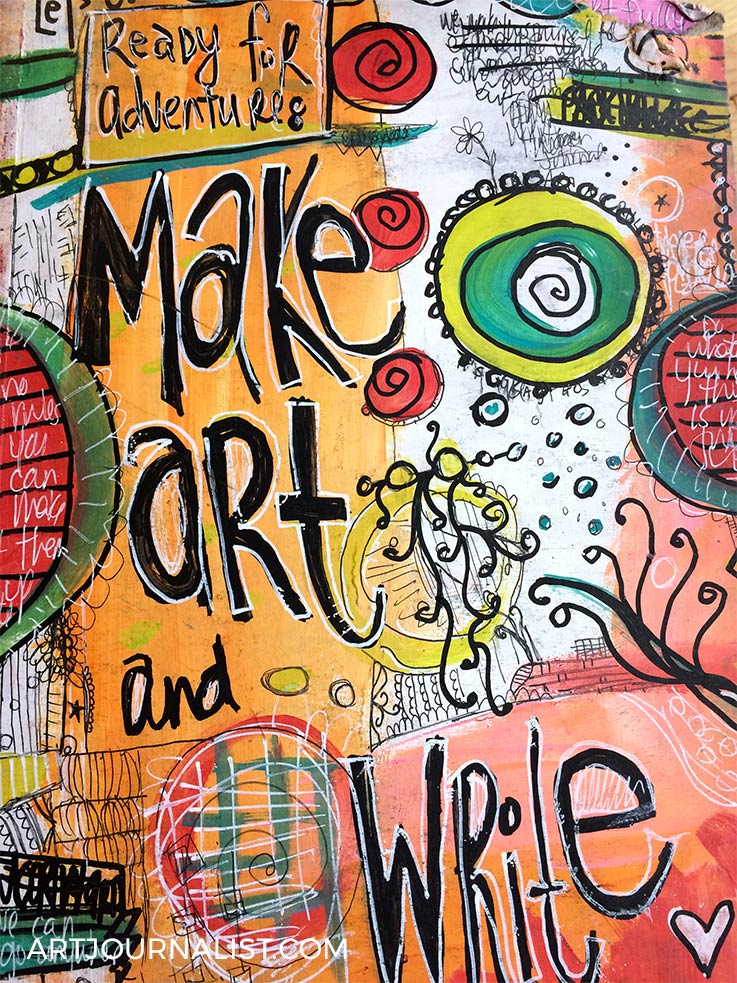 What matters most is how do you feel when you are making it? Are you happy? That really is all that matters.
It doesn't matter what others think – what matters is you found a way to express yourself and your thoughts! In fact, the worse you feel you are at art journaling, the more I encourage you to share your work, as it will only help you learn and grow as an art journalist!
That's All Good and All, But I'm Still Stuck
Still stuck, eh? That's okay! Here are some things you can do right now to get past those negative self talkers in your head:
Free Write: Write down anything in Your Head for 5 minutes, Then Cover With Marker, Paint or Gesso
Try to Make a Bad Page on Purpose – yeah, see how terrible you can make it! See my art journal fails for some inspiration!
Follow an art journaling prompt to create a page – it will help fuel your creativity.
Make a Junk Journal – One of the best things about a junk journal? No drawing or painting skills required!
You can find thousands of public domain images to print and include in your journal, or cut up photos from magazines to create collage pages. You can always doodle or write in the junk journal later!
If all else fails, think of this quote by Robert Schuller:
Better to do something imperfectly than to do nothing flawlessly.

Robert Schuller
---
Do you ever get stuck in creating art journal projects? Do you have any advice for someone just getting started who may be battling their inner critic?
I'd love to hear your thoughts and experiences in the comments section below!
Join our facebook group!
Share what you're creating and working on, ask questions + connect with over 4000 creative artjournalists for inspiration + ideas!