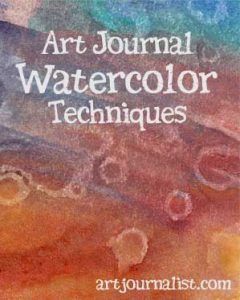 There is so much fun to be had with watercolors in your art journals! Today I thought I would share some of my favorite watercolor painting techniques that will help you get started in your way to creating unique and fun pages.
Salt & Glue Technique
This is a fun technique I picked up from Pinterest as an idea of things to do with kids for fun.  Start with a blank page and paint a scene or an abstract background. While the paper is still wet, sprinkle some salt onto the page. (Table salt works fine – or you can experiment with other salts such as sea salt or kosher salt – the larger the salt grains the bigger the salt spots will be.) Then add some glue.
Once the painting is dry, it can be really hard to get that salt off the page! I've found that gently rubbing it with a dry sponge can help get it off – just be careful not to scratch the paper!
Here's an example of what a background made with salt and glue looks like:
Rubbing Alcohol and Watercolor
Alcohol and water don't mix, so it creates a neat effect when you add some rubbing alcohol to your painting. I've found to get this effect to work well, you need to really make your paper wet! Also, try to use a higher concentrate of alcohol (ie: 91% as opposed to 70%). Here's an example background I made by painting with my water colors, than dropping large spashes of alcohol with a paint brush:
You'll notice that the places where the alcohol was splashed is where the lighter circles are formed.
Tissue Paper Technique
Have some old tissue paper lying around? Great! Scrunch it up and after painting a piece of paper with some bright and deep colors, making sure your paper is nice and wet, press down on it gently with the crumpled up tissue paper. You'll get a great texture for your pages this way.
Wax Resist Technique
We often used this technique whenever we would dye Easter Eggs as a kid – we would draw on our eggs with crayons, then dip into the dye – and the part covered with the crayon wax would not be dyed. Water colors work in a similiar way! To try this technique, start by drawing some lines, shapes, or another design on your paper with a white crayon or using the edge of a white candle. Then start painting!
Toothbrush Splatter
Toothbrushes make for the perfect splatter tool with watercolors. Simply dip the edge of the bristols into your color of choice, and slide your thumb over the bristols onto your page. This is a great effect to try if you are looking to add some "grunge" to the page. The blue splatters on my Wild World drawing were done with a toothbrush!
What other fun watercolor techniques have you tried in making your art journal backgrounds and pages? I'd love to hear about them in the comments section below! And of course as I learn more I will be adding them to this page!