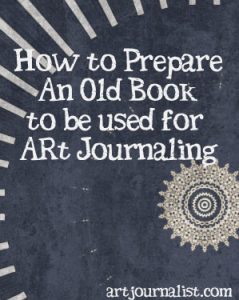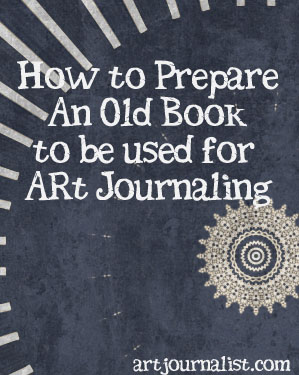 Something that is very important before altering a book or using an old book for art journaling is properly preparing it before you start creating in it. While it takes some time and patience to do this, in the end it will definitely save you a lot of headaches and ensure your creative work stays intact. In this post I will walk you through step by step my process of creating an art journal from an old book.
Choosing the Right Books to Alter
Choosing the right type of old book to alter is the first important step to take. While one would think that any old book would do, you're going to want to look for one that has sewn binding as opposed to glued binding. Sewn binding is stronger and the pages will be less likely to fall out, whereas with glued binding you risk the glue coming apart and pages falling out.
Some ideas for old books you can use: old children's books, old hardback books, old textbooks. The possibilities are endless! Also think about the size of the book – do you want a big fat book with many pages or maybe a big skinny children's book with plenty of room on each page as your canvas?
Where to Find Old Books Cheap: Finding old books can be a challenge. Fortunately you can often find them for less than a few dollars each book. Here are some of the places I've been successful in finding them:
Public & Private Library Book Sales in my area
Flea Markets and Yard/Garage Sales
Thrift Stores
Craigslist
eBay (try to find local sellers near you to avoid high shipping costs for heavy books!)
Used Bookstores such as Half Priced Books and others
Ask Family & Friends for old books you can buy from them
Once you have your books, you're ready to start preparing it for altering and making into an art journal!
Ripping Out the Pages
Something I've learned with experience is the first thing you want to do is rip out at least half of the pages in the book. So if you have a 30 page book, you will turn it into a 15 page one. This is because when you paint on your pages, and glue stuff to them, it makes the book much thicker than the binding can handle. So get ripping away! I usually save my ripped out pages for gluing and collaging later on in the art journal.
Gluing Pages Together
Depending on the weight of the pages in your book, you will probably want to glue some of the pages together to make for a stronger and heavier page. I use plain old white glue for this – lather it up on a 1″ paintbrush, give a light even coat to each page and then press together. Be sure to put a little extra on the corners as that is where they are most likely to come apart at. You can glue 1-2 pages together or several, depending on the weight of the paper in the book. Gluing your pages together will likely cause some rippling and bumpiness in the page, but no one said art journaling had to be perfect – and sometimes the messier the better!
Priming With Gesso
This step is completely optional, but is usually a "must-do" for me, as I love working with Gesso and I usually choose some odd books for turning into journals and don't usually want all the words and titles and page numbers showing through the pages I draw and doodle and paint on. I also apply gesso the entire cover of the book so I can later design my cover directly onto the book. This is the tedious part, but I know it will be well worth it later when I can start creating in my altered book!
Not sure what Gesso is? Gesso is a white primer available at most craft and hobby stores. You can also find it online or if in a real pinch, go down to the local hardware store and buy a pint/gallon of white primer – that will work too!
Now You're Ready!
Once the pages are ripped out, glued together, and the gesso has dried, you are ready to start creating in your new book! Have fun!