This post may contain affiliate links, which means we may earn a commission if you make a purchase. As an Amazon Associate we earn from qualifying purchases. Thank you for your support!
Do you love words and poetry? Then this is a fun and creative technique you're sure to enjoy! Today I'm going to talk all about found poetry – what it is, how to "find" and create it, and of course share some examples of found poetry I've made to inspire you to create your own!
What is Found Poetry?
If you've never heard of found poetry before, this of course is probably your first question!
From Wikipedia:
Found poetry is a type of poetry created by taking words, phrases, and sometimes whole passages from other sources and reframing them as poetry by making changes in spacing and lines, or by adding or deleting text, thus imparting new meaning.
Basically, found poetry means finding words in books, magazines, newspapers, and other media and turning it into a poem. It can be a great addition for your art journal, or you may even want to create an art journal specifically for found poetry!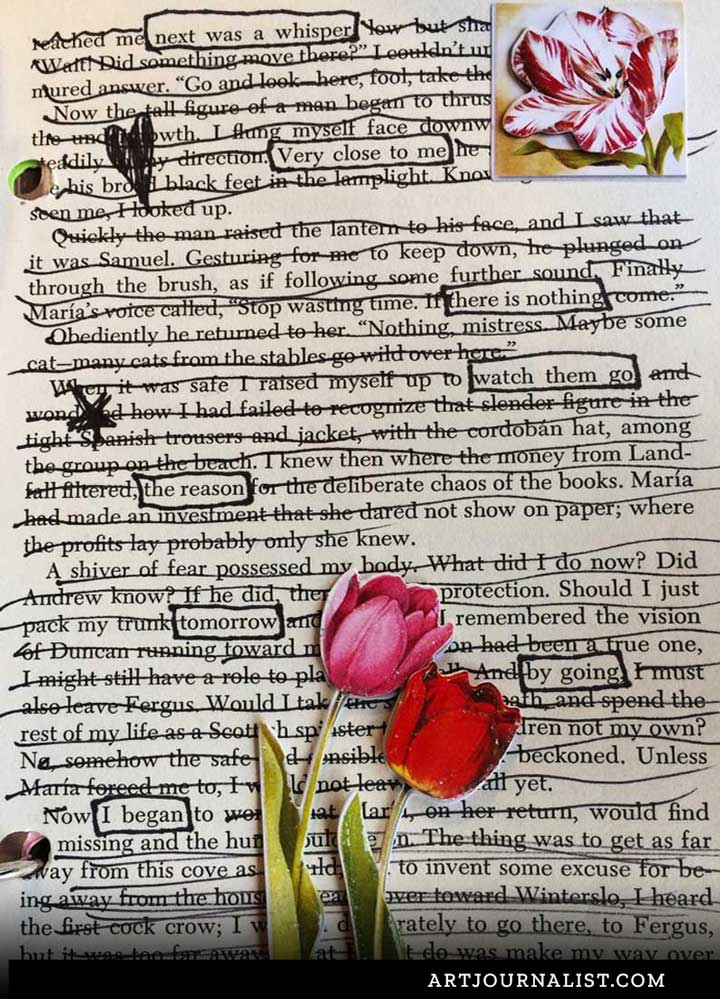 Found Poetry Comes in Many Styles and Forms
There are a lot of different styles and methods for creating these types of poems – and there are a lot of great ways to use them in your art journals and mixed media artwork!
Blackout Poetry: Blacking Out Words to Leave a Poem
Blackout poetry is one of my favorite ways to use up old books in art journaling. With this method, you want to start by first circling some words in a block of text that create a poem.
Then, all you need to do is black out everything else! Some people do this simply by going over the words they don't want with pen or marker – you can also create an illustration. If the paper is of decent quality and can handle wet media, you could also use paint to go over these extra words.
A Page From William Shakespeare's Much Ado Nothing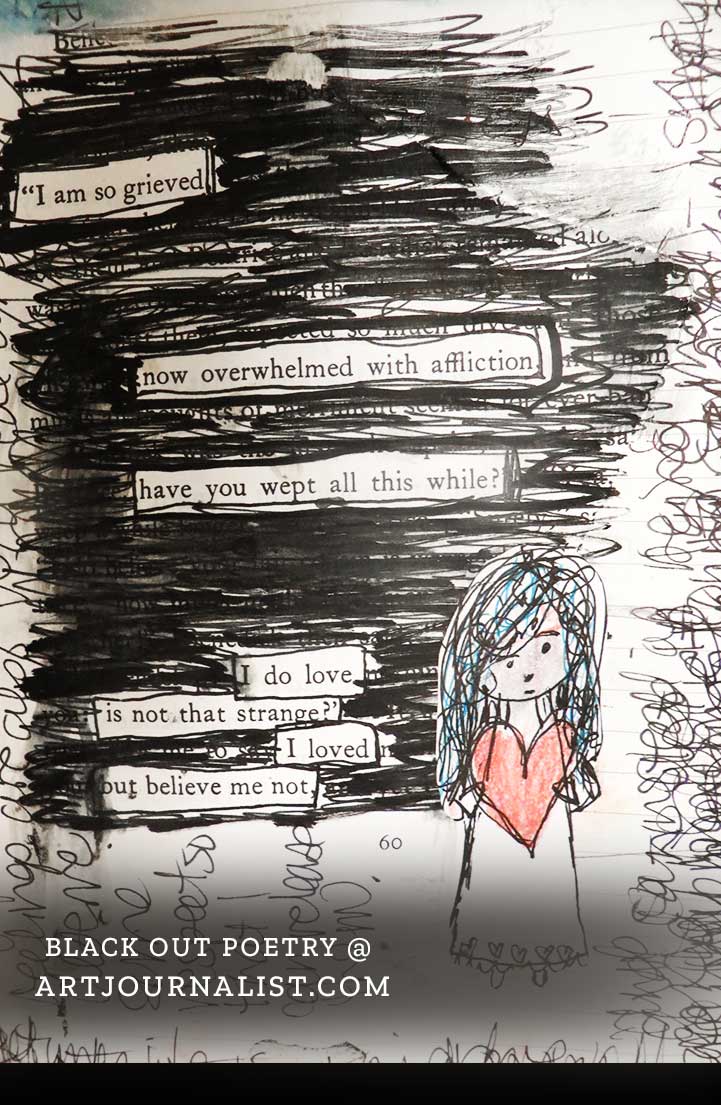 Of course, blackout poems don't have to be so dark and serious! You can have a lot of fun with this style of creativity.
How about a happy goldfish swimming?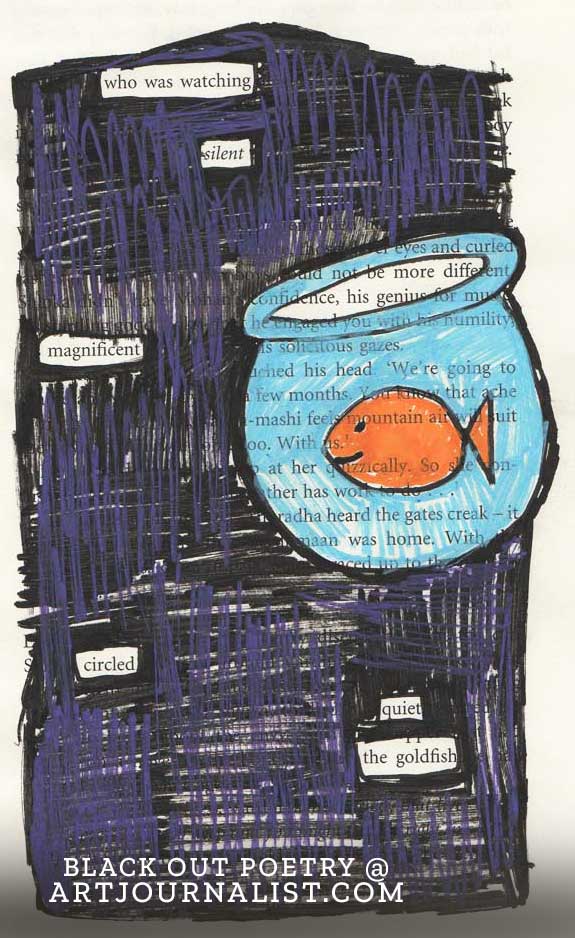 This style of found poetry might seem a little difficult to get the hang of at first, but with some practice starts to get a lot easier!
---
Don't Want to Use Actual Books? Use a Blackout Poetry Journal!
Some very clever creative people came up with a wonderful idea to create blackout poetry journals! These are journals that already have text from some of the best classic literature and authors. These journals are all ready for you to start blacking out words – and you don't have to worry about ruining a good book.
Some great choices to get started with include Blackout Poetry Journal Volume 1 by Kathryn Maloney and Make Blackout Poetry by John Carroll.
If the idea of writing in a book makes you nervous, then these types of prompted journals are a great choice because you are supposed to write in them!
More Great Inspiration for Blackout Poetry
You should also totally follow John Carroll's Poetry Page on Instagram – so much inspiration and ideas there! It just goes to show you can go beyond just using a pen or marker, like these examples that use burnt paper and even thread!
[sc name="Blackout Poetry Instagram"]
---
Found Poetry With Cut-Out Words
Another fun way to have fun with creating found poetry is to take some of your favorite words and phrases cut out of books and magazines and mix them around magnetic-poetry style for all sorts of different ideas.
For this, all you need are some words cut out from assorted sources and a glue stick!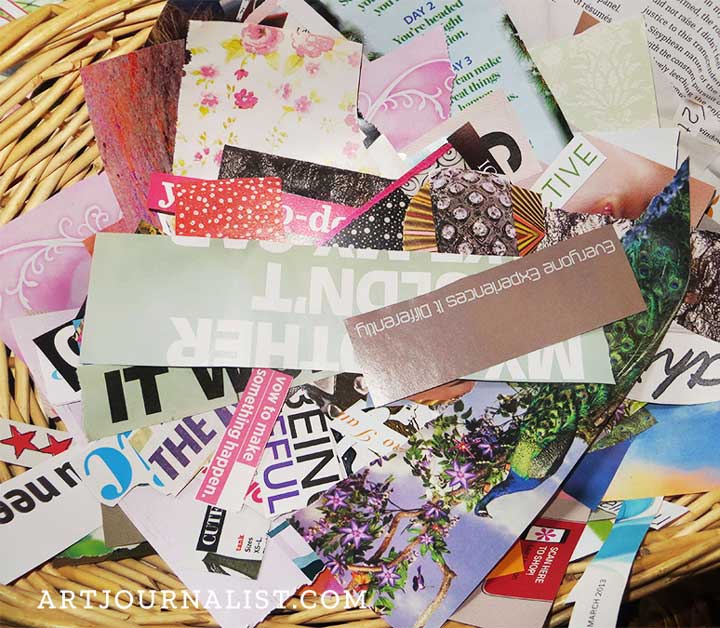 I love using these sorts of cut-outs of words and pictures even in my everyday regular style of art journaling pages, like my Block by Block art journaling technique.
Then, all you need to do is arrange the words in any way you'd like on a piece of paper or inside your journal!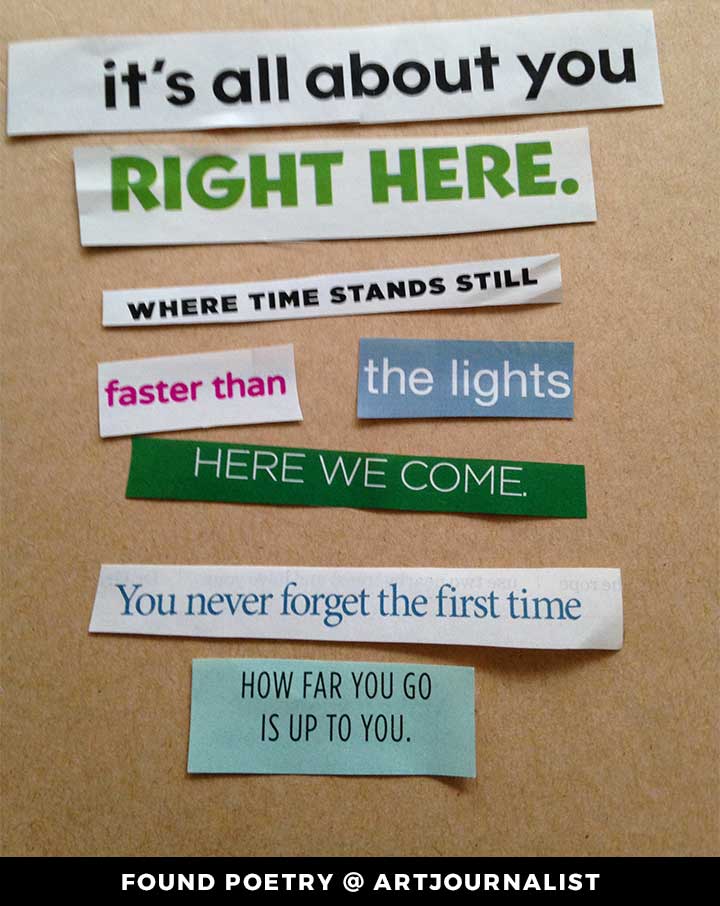 Using words from magazine advertisements and headlines can sometimes be a little bit tricky when you are trying to write poetry because the words tend to be related to mostly only promotional/motivational types of things.
In this example shown here, I didn't glue down any of the words yet. I like to move the cut-up words around a bit first to figure out what I'm creating.
Once I'm happy with how the poem looks and sounds, then I'll get my trusty glue stick to get them down.
Little pieces of paper like this can sometimes have a glossy glare and peel off easily. If you are working with cut-out words and durability matters, I recommend going over them with a very thin layer of Liquitex matte gel medium.
Matte Gel Medium gives you two advantages with collage cut-outs from magazines:
It makes it so your papers aren't glossy – this helps avoid the "my artwork looks like a kids school project" dilemna.
If you use an acrylic paint brush to apply the gel medium in a very thin layer, you can actually add some brush stroke texture – making the words look like they have been painted on.
The main thing is that you don't use too much gel medium! If you use too much, it may cause the paper to wrinkle. Wrinkled paper is only fun if that is the artistic effect you are going for!
---
Fun Inspiration & Resources for Creating Found Poetry
Now that we've shown some examples of found poetry and different ways to create it, you might be wondering how you can incorporate this in your art journal. Don't worry, we of course have some great ideas and resources for you!
1. Find Large-Text Print to Use
Sure, you can use teeny tiny words and cut them all out by hand if you'd like – although that's not always the most practical! I like to use old kids books for cutting up words, because the text is large and easy to read.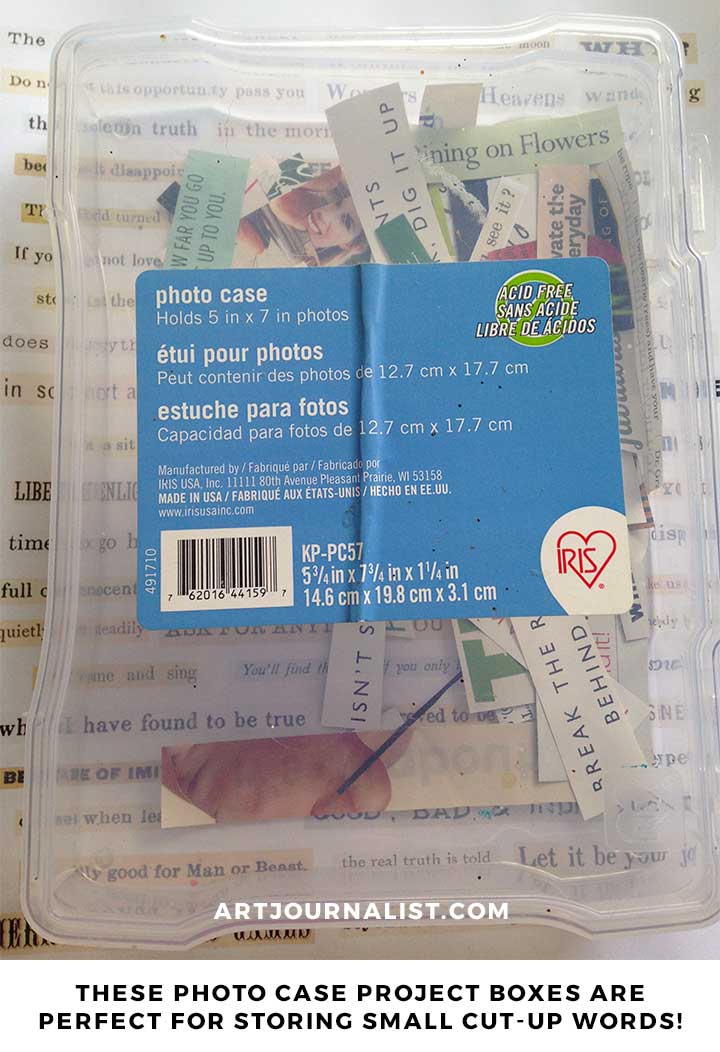 If you are wondering how to organize all of these words when you cut them up, I've found that 5×7″ scrapbooking photo storage boxes like these ones by Iris are a great way to keep small pieces of paper together and are fun to sort through!
2. Print Out Words to Cut and Remix into Creative Poems
If you don't want to use an existing book, another great option is to print out words to use for creating your visual poems. Want to get started right away? We have a great free printable list of words here that you can use in your own artwork.
Another way to do this is to go to the Project Gutenberg website and find public domain books where you can print out the text from old books. This way you don't have to worry about ruining a classic book!
We also have a list of resources for where to find free printable graphics to use in your artwork!
You can also copy and paste text from some of these literature classics and format as you'd like on your computer. This is easy to do with word processing software programs like Microsoft Word, Pages for Mac, or even Open Office software. The other great thing about this option is you can even choose what types of fonts you would like to use.
3. Try Going Digital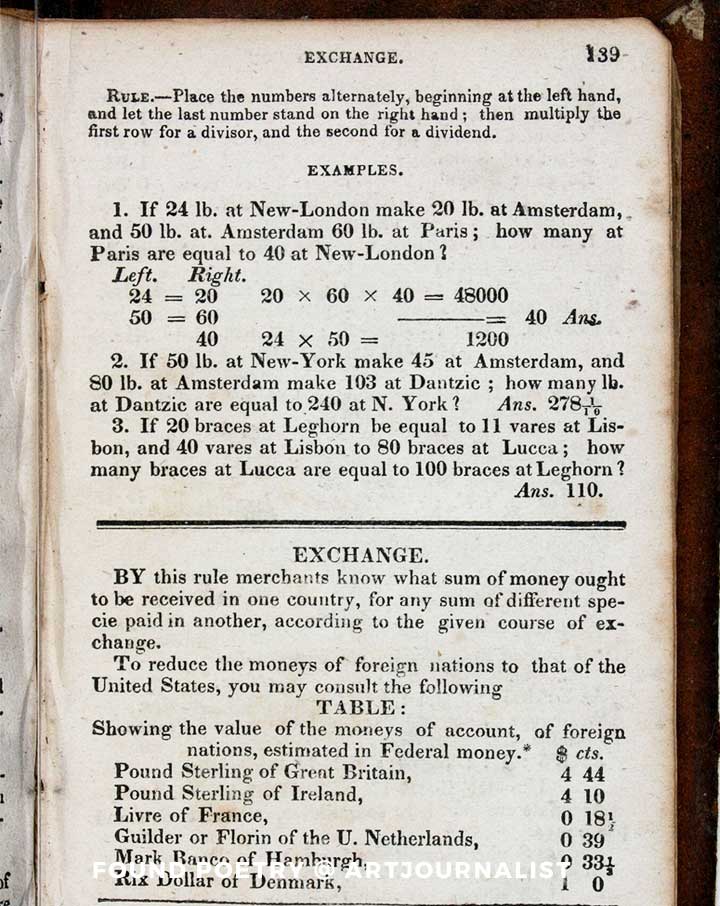 Another fun way to do this easily and with no mess is to go digital. For example, I can start with a scan of an old public domain book page. Then, using Photoshop I can black out text in a number of different ways and add different effects.
Using this other-wise boring math book page shown above, I've created this art digitally with Photoshop. No print, paper or cutting out words required!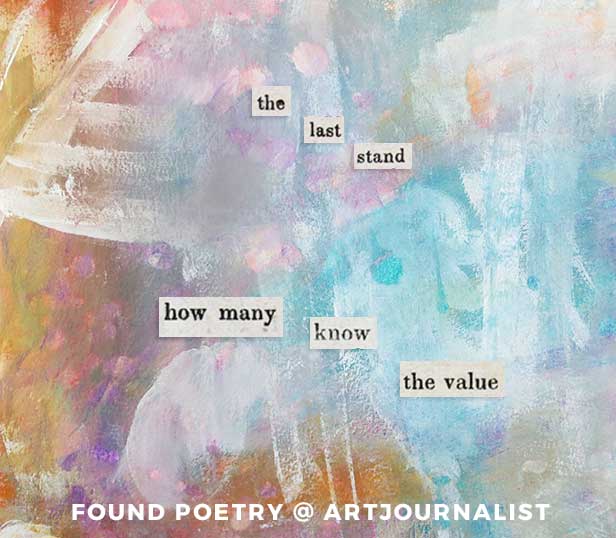 For this page, I simply used the Rectangular Marquee tool to cut out the words, added a subtle drop shadow, and put a scanned picture of one of my painted pages in the background. Super easy and fun – with no mess to clean up afterwards!
If you happen to have one of the newer Apple iPad Pro tablets with an Apple Pencil – that is also super easy and fun to use. I love using the Apple Pencil because you can basically draw right on top of anything digitally!
Another great option for creating digital works of art on your computer is the Wacom Intuos Tablet. It's a secret tool top graphic designs and digital artists have been using for years!
4. Have Fun With Friends
This is also a really fun activity to do with a group! It's always more fun to create with others, and it can be really interesting to see what everyone finds and makes with the different words.
Setting up a "found poetry" station is a great idea for something to do in a classroom if you are a teacher. It's also something fun you could do as an activity at your local library!
---
Have Any Found Poetry You Would Like to Share?
Want to share what you create? Join our Facebook Group to share pictures of your creative visual poetry pages – I always love seeing what you make!
What are your thoughts on Found Poetry? Do you like making these types of pages in your art journals? Have any questions about getting started? Feel free to ask or share in the comments below – I'm always happy to try and help!