This post may contain affiliate links, which means we may earn a commission if you make a purchase. As an Amazon Associate we earn from qualifying purchases. Thank you for your support!
All summer long, I enjoyed art journaling on my porch. It was very nice. But now…winter is on it's way! It's getting colder and the daylight is dwindling down…which means it's time for me to pack it all up and move back inside.
While last winter I set up a card table in my living room, with the holidays soon approaching that is not going to work out so well this time of year.
So, given limited space and budget (My house is 900 sq feet and also living with me are three kids, a husband, and a cat)…I had to get creative with what I had and I decided to transform my half of a teeny tiny closet into my new art studio!
And yes, I only get half of a closet, as the hubby still needs a place for his clothes! It was a challenge, and it's not ideal for any large projects, but this should keep me creating – and hopefully organized – all winter long, which makes me happy!
My First Project: Making The Portable Solution for Creating
I knew that making one would really help me organize this teeny tiny mini art studio and it being portable I figured would be good for when going out and about and bringing my supplies with me, like when I visit my parents or go to a friend's house.
So, I started with a container that my husband saved for me from work. The lid is a bit beat up, but that's okay – the clasps on the side work and the inside is clean so that's really all that matters.
I  also saved some boxes and other containers to use in it. Like a lunch meat container to store my gelatos (which I really need to write some tips and tutorials on soon – they are very fun to play with!) – an old box for holding all my paints, a coffee can for holding stamps and stencils…
I did buy one thing a few weeks ago for holding and organizing all my collage cut-outs which I love…I found it Pat Catan's…not sure if they sell them online anywhere but it's made by Darice. It's basically like a giant coupon organizer that I use to hold all my collage cut-outs and it expands!
Here's some pics of that:
Using this nifty little thing I was able to organize all my collage cut-outs in some ways, like a pocket for people, a pocket for animals, a pocket for flowers, a pocket for patterns, etc. etc. I LOVE it! Wish I had more stuff to cut out right now to fill it up with!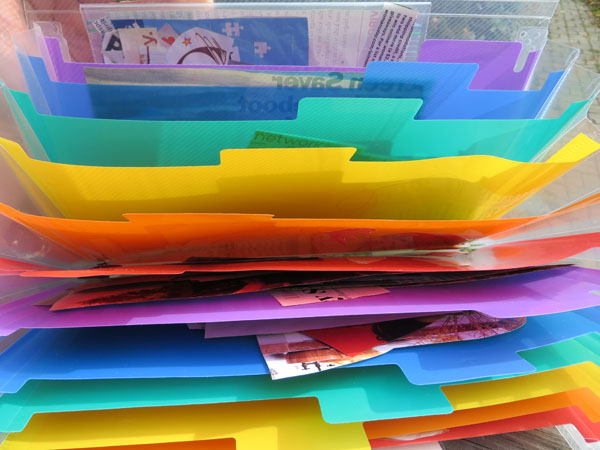 So what else did I need to put in my little portable box of art journaling supplies?
Brushes and Pens. I happened to have a little bag meant just for holding pens, so this works perfectly for holding all that stuff. I threw in a glue stick and a small pair of scissors for good measure!
Things missing from this photo:
Baby Wipes & Paper Towels (Let's be realistic: I always make a mess!) – Maybe too I will add a piece of Vinyl table cloth to cover up the area I'm working in since it's inevitable for larger projects I'll be moving to the living room or the kitchen for.
My Gelatos – had to hide them from my 4 year old who loves playing with them as much as I do!
Once I had my "Go To" art supplies all somewhat organized, it was time to tackle the closet portion of my teeny-tiny mini art studio.
My Little Corner of the World
Here's what I started with for my "closet art studio"…you can see I have the desk turned sideways in the corner to accommodate for my hubby's clothes!
Pictured here are some shelves by Closetmaid I picked up from Wal-mart for $13. Not too shabby! And I built them myself! Really proud of myself for that because usually my husband is in charge of all things assembly related.
I also got two shoebox containers from the dollar store the other day. One of them is for all my Zentangle stuff – the other will just hold misc. stuff that doesn't quite belong anywhere else.
And there's my big disorganized box of ribbon and washi-tape. Paper cutter. Recycled desk lamp I have had since college.
On the floor of my closet (underneath where my husband's clothes are) – I have my sewing box which has some fabrics and sewing stuff plus a cardboard box where I'm keeping all my scrapbook paper scraps.
The top of the sewing box is where I'll be keeping my "couch box" for easy accessibility when I'm sitting at my desk.
So, after much arranging, re-arranging, sitting there thinking about my process when I'm creating and what I want easy to reach/grab…putting some stuff on the walls because it was so "blah"…
Here's my final closet art studio:
I LOVE, LOVE, LOVE the way it turned out! I have a space in my house that's all my own for creating…so very exciting!
How have you transformed a space in your house for creating to meet your needs? Share your thoughts and experiences in the comments below!
Join our facebook group!
Share what you're creating and working on, ask questions + connect with over 4000 creative artjournalists for inspiration + ideas!