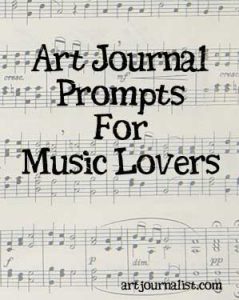 I love listening to music while I create my art journal pages, and I find many songs to be very inspirational for page theme ideas.
Because I love music so much, I decided to create a list of music and song journal prompts you can use to get started in creating art journal pages.
Here are some fun music inspired ideas to create in your journal!
1. Illustrate a song with a vivid storyline or plot.
2. Make a page about your favorite musical instrument.
3. Turn on the radio and create a page inspired by the sound of the first song you hear.
4. Put your mp3 player on shuffle and create a page based on the song that is played.
5. Songs From the Past: What is a song from your childhood or teenage years you remember well? Create a page based on the mood/beat/memories of the song.
6. Listen to a genre of music you don't normally listen to while you create today.
7. How has music helped you get through tough times?
8. Create a page inspired by your favorite concert you've ever been to.
9. Create a page as a tribute to one of your favorite musicians
10. Create a page about a quote about music.
11. What makes you want to get up and dance?
12. Music of the Decades: Choose a decade and listen to some of the music from it while creating your art journal pages
13. Invent your own musical instrument – draw/paint a picture of it or describe the sound
14. Go to 8tracks.com and browse by a mood or genre of music – choose a playlist of songs for whatever mood inspires you and create a page while listening to the song.
15. Make Lists of Songs/Bands: I love making lists, and listing all of your favorite songs/bands or songs/bands that remind you of something or put you in a certain mood can be a great inspirational starting point for an art journal entry.
16. Incorporate pages of sheet music in your project.
Hope you enjoy these fun music inspired prompts! If you do any of these, I'd love to see your finished projects in our Artjournalist Community Facebook Group!