This post may contain affiliate links, which means we may earn a commission if you make a purchase. As an Amazon Associate we earn from qualifying purchases. Thank you for your support!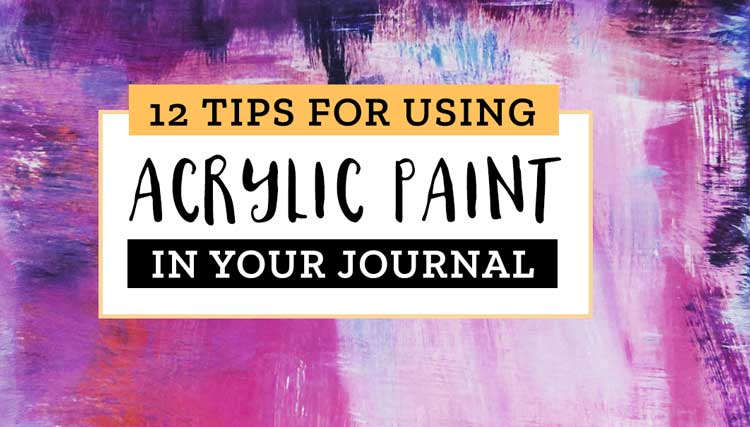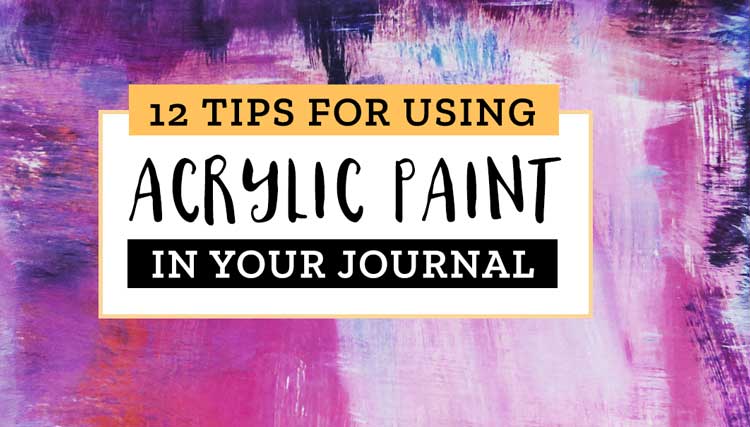 Acrylic paint is inexpensive, readily available (even my grocery store sells it!) and probably one of my favorite mediums to use in my art journals because of its texture and the bright vivid colors.
Today I thought I would share some of my tips for working with acrylic paint to help you use it in your art journals.
---
Here are My Top 12 Tips for Working With Acrylic Paint:
1. Keep The Paint From Drying Out While You're Working:
Acrylic paints dry out VERY quickly. If you're working on a project, only squeeze out a small amount at a time – and consider using plastic wrap to cover up your palette if you're waiting for a page to dry before starting the next one.
You can also mist your palette with water in a small spray bottle, but that can water it down a little if you're not too careful.
2. Take Care of Your Brushes: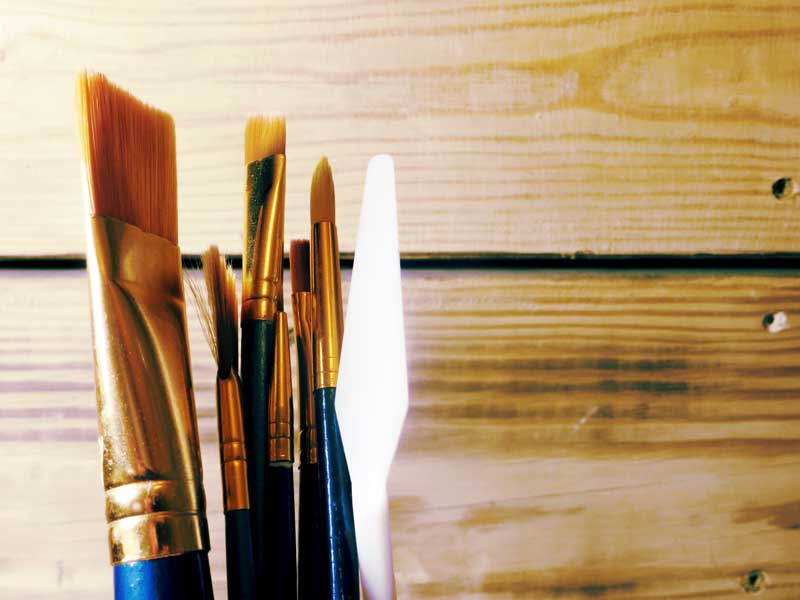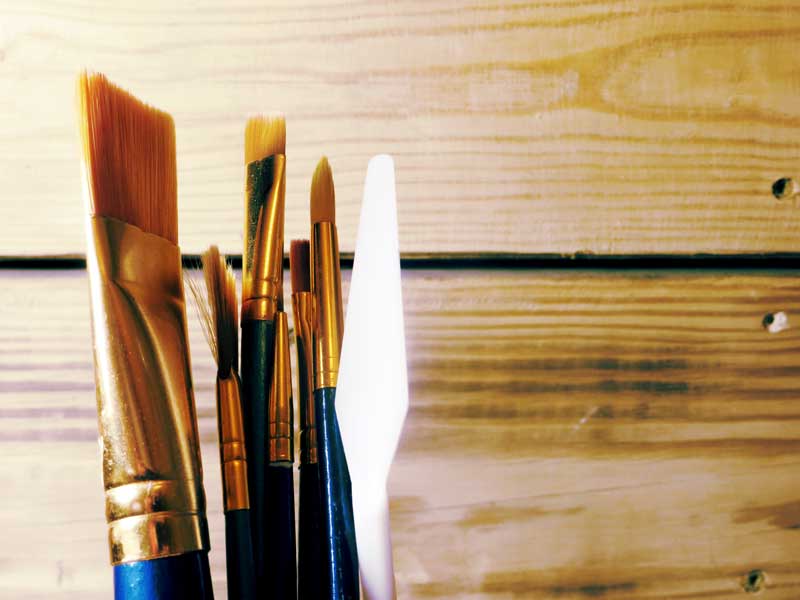 When switching between colors, you may want to rinse your acrylic paint brushes in water – but you don't really want to mix water and acrylic paint (unless you're intentionally going for the effect!) – so be sure to have some paper towels handy for blotting your brushes dry.
Also, be sure that you clean your brushes thoroughly as soon as you're done painting – acrylic paint once dry will destroy those brushes in no time!
Note: No need for solvents or paint thinners when cleaning brushes used with acrylic paint – if you want, add a few drops of dish detergent for stubborn brushes that won't come clean.
3. Experiment With Different Finishes:
Acrylic paint sold at most craft stores will come in different finishes,ie: matte vs. semi-gloss. I only discovered this by accident one day while painting and realized one of the bottles was labeled differently!
Now that I've realized there are different finishes and have played around with them, I know to grab the semi-gloss bottles or matte depending on what the project I'm doing 🙂
Experiment with the different types to find out which kind you like – you can even mix them together in most cases without any adverse effects.
4. Mix Colors Consistently:
If you tend to mix up colors on your palette completely randomly – a little dab of this, a little dab of that – you may find yourself with a beautiful color that can't be duplicated.
While there's no harm in mixing colors randomly if that's your style, try counting "drops" or "dabs" in your mixture to consistently get the same color every time.
If need be, write it down so you don't forget! (Me, being the forgetful type, finds this to be very helpful!)
5. It's Okay to Use Cheap Paint: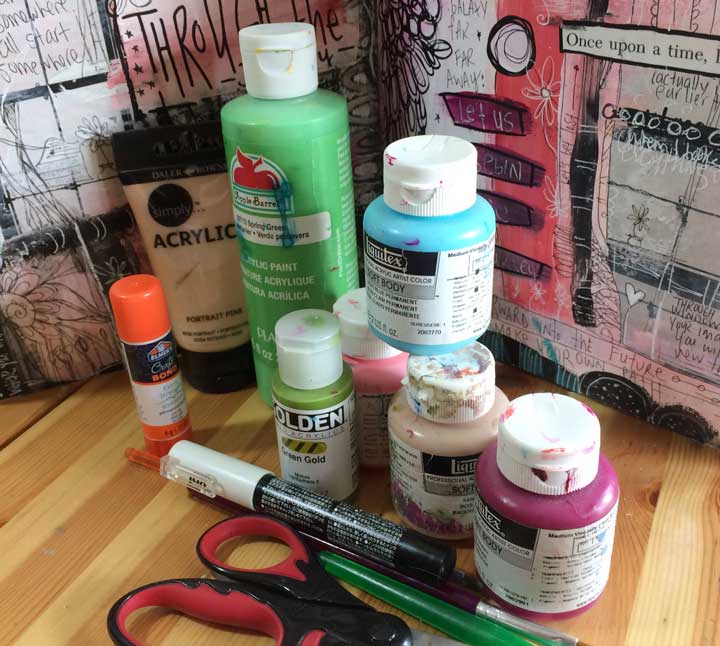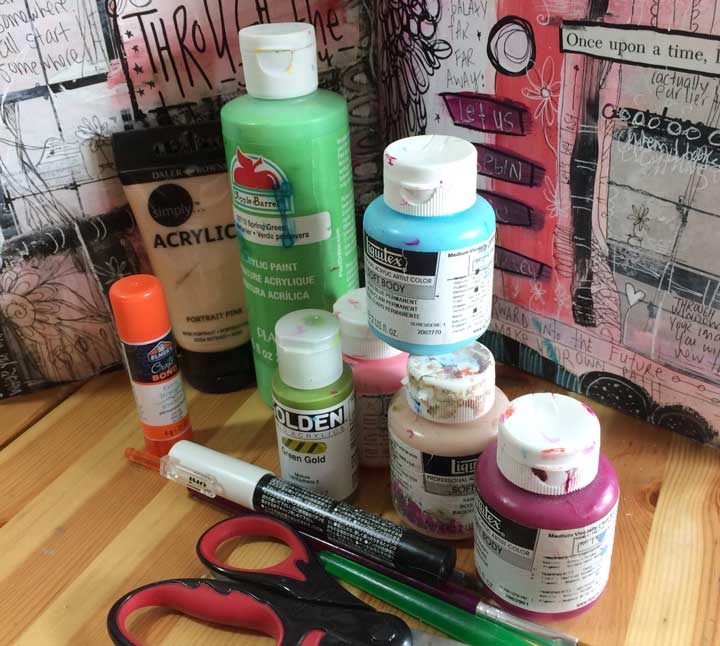 Some people are going to disagree with me on this one. And yes, the more you spend generally the better quality you are going to see in your paint (it generally will last a little longer also as you don't need as much paint). But you don't have to spend a fortune!
I love brands like Liquitex and Golden, but for beginners it can be an expensive investment.
Using inexpensive craft paint brands which average around $1-$3 a bottle will work just fine! When I am just experimenting, it works fine for what I'm doing. 🙂
Now, if you're creating a masterpiece for an art exhibit to sell, then I'd go with the more expensive paint…but for me and my kids making journals (and my kids tend to waste a lot of paint) – cheap paint works just as well in those cases.
6. Avoid Pages From Sticking Together:
Sticky pages is a problem a lot of people who are new to using acrylic paint in their journals have.
Keeping waxed paper between pages is one option – you can also dust a light coat of baby powder on the pages which will help you avoid pages sticking together – just be sure to apply the baby powder after the page is completely dry!

7. Get Creative With Different Brushes:
I love mixing up the different types of brushes I use. From big fat brushes to skinny little ones, you'll find each can really make it fun to mix it up.
You can read more about how you can use the different types of brushes available here: Acrylic Paint Brushes 101: Understanding the Different Types and How to Use Them.
8. Add Texture With Household Objects:
Acrylic paints do really well with "texturing" so don't be afraid to experiment with some unusual textures or household objects.
I've found that painting things with some acrylic paint to use as stamps can be a lot of fun, or you can also old credit/gift cards to use as a homemade palette knife.
Go through your home looking for unique and unusual items and you'll be amazed at what creative things you can come up with!
You can also have a lot of fun with creating background textures with gel plate printing!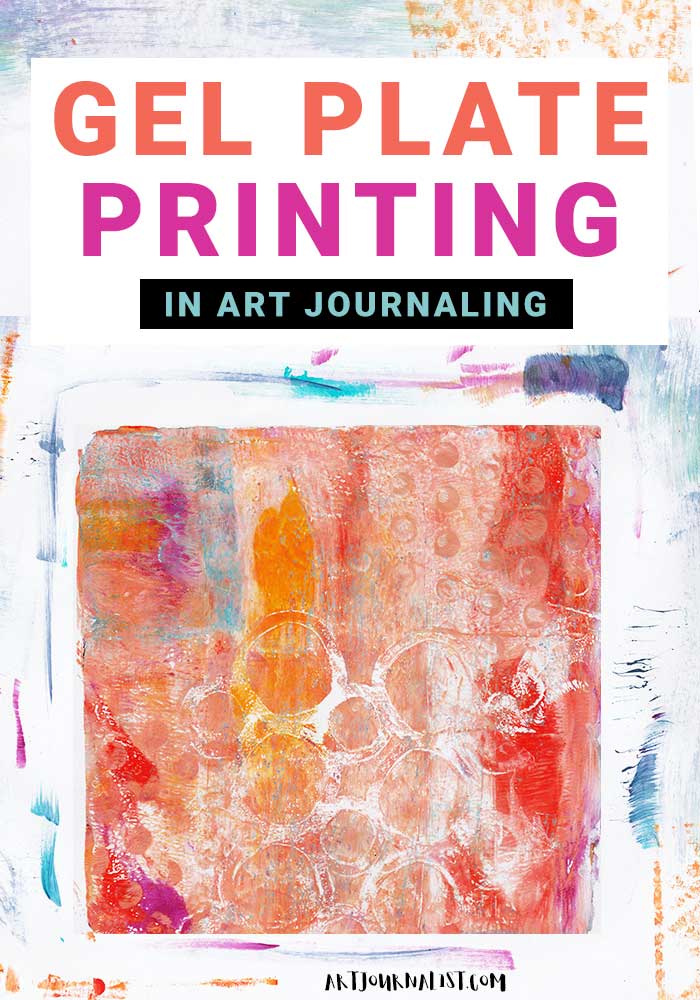 9. Use a heat gun or hair dryer to accelerate drying time:
Inpatient? Me too! A craft heat tool gun, on low setting and at least 4-6 inches away from your painting, should help things dry up a little faster (or at least give you something to do while you wait!).
I love the Nicole Multipurpose Heat Gun and have been using it for years – it has been wonderful to speed up the drying process on some of my work as I wait for layers to dry!
Be sure when using that you apply the heat evenly to each area so it dries consistently to prevent crackling. If you get too close or stay on any one spot too long, you may notice the paint starting to bubble or crack.
10. You Can Mix Glue & Acrylic Paint for Collaging:
I use plain old white glue and acrylic paint together all the time when collaging magazine pictures into my art.
First I brush the glue on to the back of the image, then apply it to the page and then paint over the edges with a mixture of the glue and paint together to help the photo blend in with the background.
While plain white glue works well, I've found that I also like to use Liquitex, which is basically a clear acrylic paint that works as an adhesive also.
11. Prime Thin Pages With Acrylic Gesso First:
If you're using a wet media journal or sketchbook or an old altered book with thick pages, then you don't always need to apply gesso to the pages first.
But if you're working with a journal or book that has thin pages, you'll want to gesso these pages first for a few reasons:
1. That the paint won't bleed through to the other side
2. The pages will be less likely to tear.
3. More vivid colors as the paint will not be absorbed into the paper as much.
12. Put wax paper underneath your pages you're working on:
To prevent paint from making previous pages you've done and the pages you've yet to do from sticking together, place sheets of wax paper underneath your current pages. This will help prevent it from sticking and making a mess.
---
Do you have any tips for using acrylic paints that you'd like to share? I'd love to hear them in the comments section below !
And of course, if you have any questions about working with acrylic paints, feel free to ask them in our Facebook group! I'm always happy to answer questions you may have!
Join our facebook group!
Share what you're creating and working on, ask questions + connect with over 4000 creative artjournalists for inspiration + ideas!