This post may contain affiliate links, which means we may earn a commission if you make a purchase. As an Amazon Associate we earn from qualifying purchases. Thank you for your support!
I am super excited to start what I'm calling the 2022 end of year stash busting challenge! In this challenge, we are going to make as much as we can and use up as much of our stuff as we can so we can clear out this year + get ready for 2023!
My goal here is to post at least one video + blog post each week from now to through the end of the year with creative ideas for ways to use things like junk mail, magazine clippings, old paint and glue AND make some very fun stuff together in the process!
My hope is that by posting this online + sharing it, you will help keep me accountable to stay doing this! Yes, you! I need your help to make sure I actually stay on this and get things made!
You know what it's like – so many things you want to make but a lot of times we just don't get around to it. And we say we'll do this or that…but we actually have to do it!
So, if you are like me with a ton of stuff you haven't been using, or maybe you've kind of been in a creative rut – or maybe you just want to clear out 2022 on a positive note to get ready for 2023 – this challenge is for you!
It's 100% free to join us and it's super easy to get started and I really hope you'll join because it's going to be fun – and I really, really do need your help to stay on top of this!
What Will Be Making?
So, you are probably wondering what kinds of things we will be making! I have so many ideas, and of course, in my usual fashion, I made a list!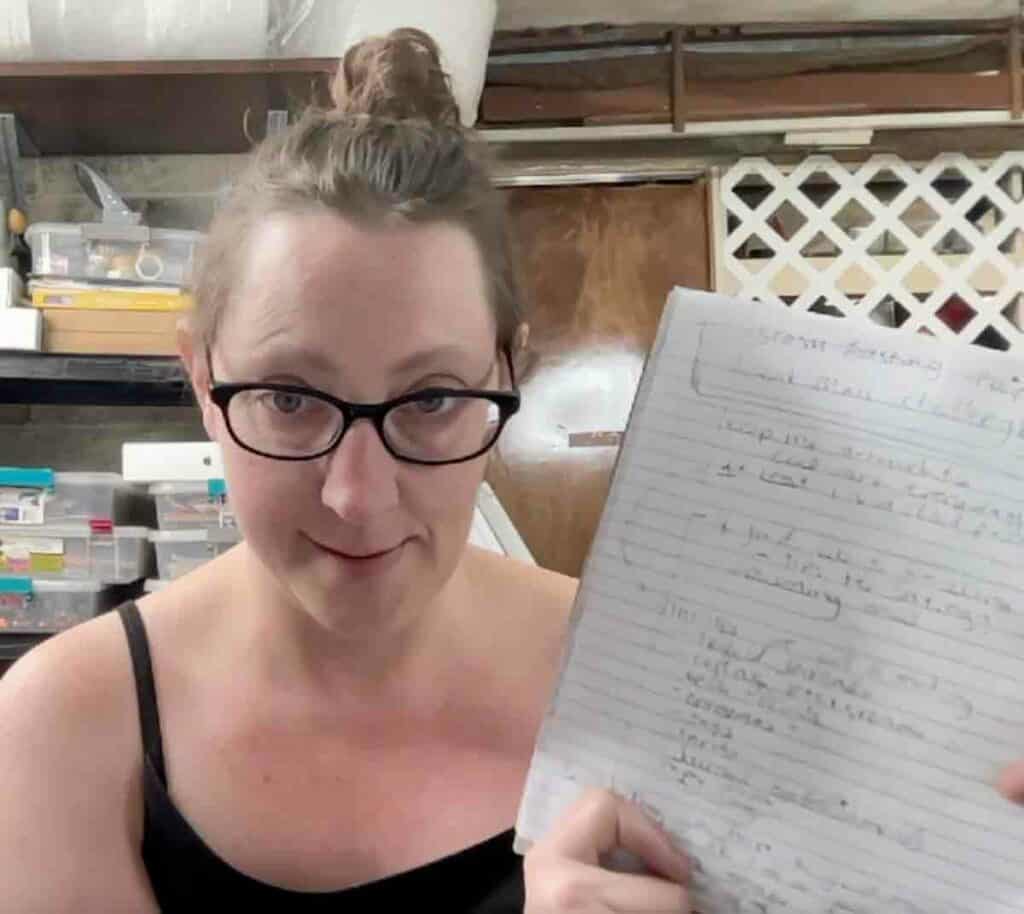 I don't have a strict plan or itinerary, but here's a quick list of what we might explore!
Trifold Journals – I am in LOVE with these – I use junk mail to make these since the junk mail is what inspired them, but you could make these with ANY papers!
Tags, Snippets + Journal Bits – What better way to use up ephemera + magazine clippings than to make some really fun and creative tags + bits to put in your art journals and junk journals?
Art Journal Pages – Of Course! I have fallen off the wagon with my Journal With Me Series, so I'm definitely going to do a few more of these! I really want to also share some fun collage techniques!
Christmas + Holiday Stuff??!??! Christmas is coming (I LOVE Christmas!) – and since we're towards the end of the year anyways I thought it might be fun to share some ideas + make some things that could be gifts or decorations.
Paper Mache?!?!? Paper mache is so fun, but it is so messy so not sure if we will actually make videos but man is that an easy way to destash some junk mail + newspapers!
Decoupage! This is also super fun so I definitely think there will be some stuff with this too!
And anything else we think of!
This is just a small list of ideas – I am sure as we dive into this we are going to be inspired to make ALL KINDS of things – and maybe even do some of those project ideas we might have pinned onto our Pinterest boards eons ago + never got around to!
All righty, this is going to be super fun – so let's dive on in!
How to Join Us + Participate in the 2022 End of Year Stash Busting Challenge
Step 1: Subscribe to My YouTube Channel
I am kicking off this challenge with this video on our YouTube channel, so please make sure you subscribe to stay updated on all of the videos I will be posting!
My goal is to post at least one video each week – so you are definitely going to want to make sure you subscribe and click on the notifications bell so it will show up in your YouTube feed!
---
Step 2: Join Our Facebook Community
I love our little group of over 4000+ Artjournalists on Facebook – It's the most supportive, happy, drama-free helpful group around!
While Facebook has its quirks and limitations, for now it's the best way to connect with me and all the other artists participating in the challenge.
Heck, even if you aren't participating in this challenge, we'd love for you to just join in + share whatever you are working on or just stop by for tips, tricks + inspiration.
And if you are participating in the challenge, simply use the tag #2022stash so it's easy to find posts related to this challenge!
---
Step 3: Follow Along on Our Blog for Tutorials, Resources + More!
I will be adding a lot of blog posts + tutorials for kicking off this project – with the one I'm most excited for are my new Trifold Junk Mail Journals. OMG I'm in love with these!
You can follow along with ALL of our blog posts here at Artjournalist and I'll update this page as we go along with the different posts + tutorials in this series as I add them!
I'm so excited for this that I hope you'll join along not just because it will be a ton of fun but also so we can help keep each other motivated + accountable for actually using up all of my stuff + making things before the end of this year!
Join our facebook group!
Share what you're creating and working on, ask questions + connect with over 4000 creative artjournalists for inspiration + ideas!