I am so excited to start offering printable journal kits! This post shares all my best printing tips + ideas for creating your own junk journal or art journal.
All of my journal kits are in PDF format – this helps keep the file size smaller without any loss in print quality. I design everything in U.S. Letter size (11×8.5 inch) – but you can certainly print at any size paper you need – just be sure to adjust for the paper size in your print settings!
When printing, be sure you select "actual size" and "borderless printing" as the page size. I also highly recommend printing a test page first to make sure everything will print the way you want before printing all of the pages!
Here is a screenshot of the print settings I use on my Mac: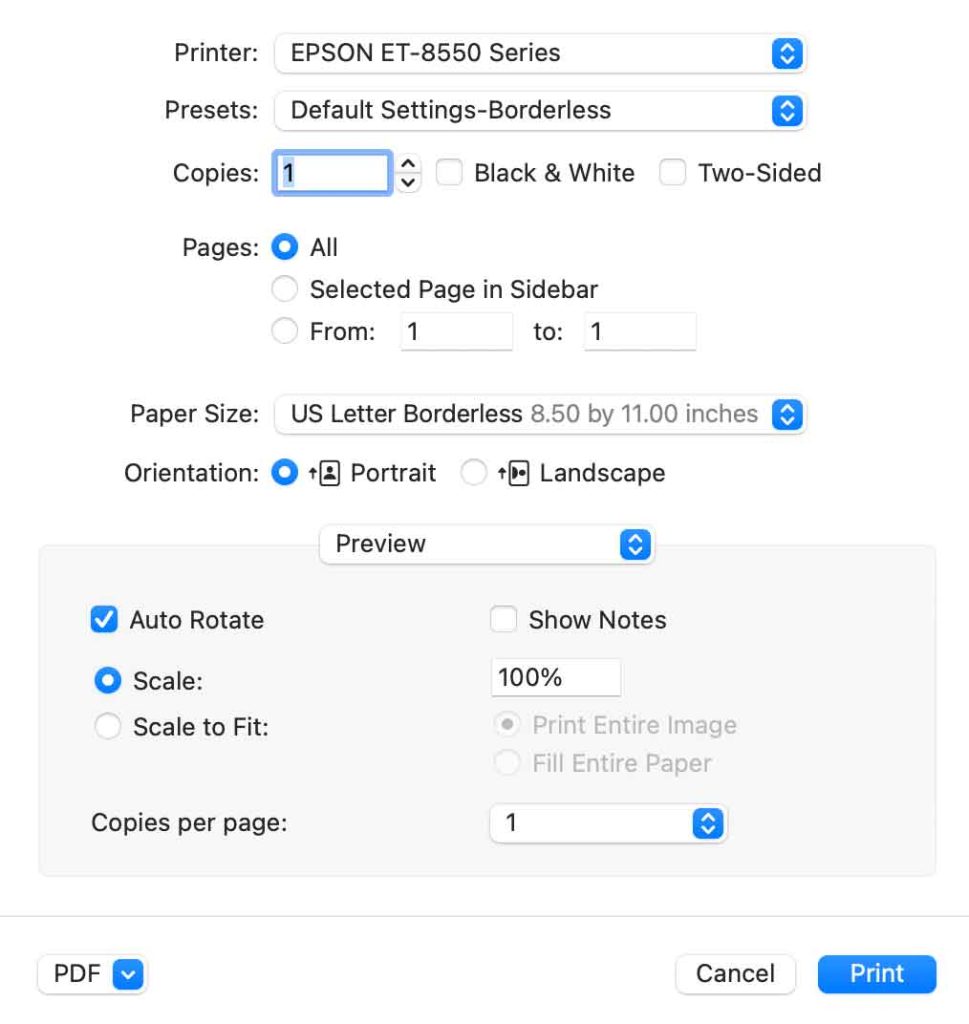 I sadly don't have a Windows computer to show you a screenshot of what that looks like, but you'd want to make sure to select similar options for paper size and scaling.
Tips for Printing Journal Kits
When I print double-sided pages, I don't use the double-sided printing function that is built into my printer because it adds borders to everything. Instead, what I do is print the first half, take those papers, and put them back in the printer (make sure they are facing the right direction!), then I print the second half so that it will print on the backs of the first set of pages I printed.
For example, if there are 36 sheets, you would first print pages 1-18, put those pages in your printer in the correct direction and then print pages 19-36. Some of my journal kits actually have 2 PDF files to make it easy to print double sided with no math or counting involved!
Troubleshooting Printing Issues
Occasionally when printing large colorful files, you can sometimes run into the issue where your printer's nozzles will become clogged and it can leave streaks/stripes/smearing on the page. If you go into your printer's utility software, there should be the option to clean the printheads which will solve this issue.
Another issue you may run into is items not being aligned properly. This is usually caused by your printhead alignment – most printers have a utility where you can adjust this and calibrate your machine.
Another option for printing is to simply send the files to your favorite printing and copy shop. If your copy shop requires a print release form, you can access one here:
https://shop.artjournalist.com/pages/print-release-notice
As for paper, I like to print items out on 110 lb cardstock paper. I like that cardstock is a bit sturdier and it really seems to pull the colors out better with my printer.
Another option is to use premium 32 lb copy paper which will give you nice thin pages which may be a better option if you plan on doing a lot of collage with the printed papers.
I try to make my collage + ephemera kits easy for cutting by hand – I don't use too many intricate shapes!
If you have a cutting machine, you can easily import the PDF file into your cutting machine software and follow their directions for printing + cutting.
How to Create a Journal
There are hundreds of ways to make a journal, but my favorite way to make them is with my Easy Peasy No-Sew Binding Method that uses either rubber bands or elastic hair bands.
Basically, you fold all the papers in half and then attach them to an old book cover or cardboard box using elastic bands!
You can watch a detailed step by step tutorial on how to make a journal in this video I made below:
My favorite bookbinding tape for reinforcing the spine is this 3-inch Bookbinding Tape by Bookguard. Gaffer Power also makes a nice 2-inch bookbinding tape – I've tried + used both!
Last updated on May 24, 2022 11:17 am
If you want to order the elastic bands online, here are the ones I recommend:
If you are using the elastic hairbands, I can't stress enough that Goody brand is the one to get! Other ones I've tried ordering online as well as ones at the Dollar Store are just not as good – they are either too thick or they lose their stretch too quickly.
I've included links to latex-free rubber bands above, but of course, regular 7 inch by 1/8 inch rubber bands work just as well!
Last updated on May 24, 2022 11:17 am
Once your journal is assembled, you are ready to start filling it with your favorite ephemera + goodies!
I hope you enjoy my printable journal kits and of course if you have ANY questions at all don't hesitate to ask! Leave a comment below or reach out via my contact form.