This post may contain affiliate links, which means we may earn a commission if you make a purchase. As an Amazon Associate we earn from qualifying purchases. Thank you for your support!
After making my Thanksgiving Day art junk journal, one of the things I reflected on was just how thankful I am for YOU and all of your support all these years here at Artjournalist.com!
I didn't think to make printables for Thanksgiving Day before I made my own Thanksgiving journal (boy, that would have made it a lot easier!) – but as I was flipping through it and making the Turkey Day Flip Through video about it, I thought, y'know what? I could easily make some in time for Turkey Day for YOU to download – and I did!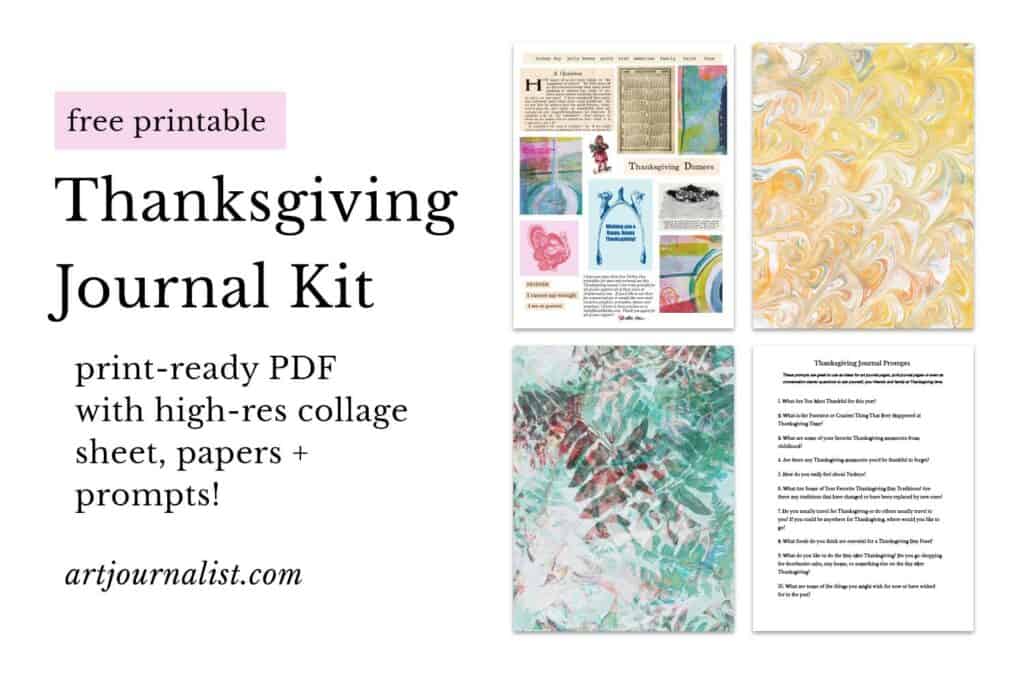 It's a perfect little mini-kit for making your own journal!
Those of you who have really stuck by me all these years know that I have a tendency to be very much out of season, such as when I posted my "spring daffodils" tutorial in September.
So while ideally, yes, I would have had these out earlier in November – y'know what? I'm pretty darn happy to get them out today!
And…if you want to make a Thanksgiving journal today, or next week, or maybe even 5 months from now in April or wait until next Thanksgiving – that's okay too! No judging here + The printable will still be here for you! 🙂
What's Inside the Free Printable
The Print-Ready PDF file has 4 pages. Here's what's inside for you to download!
(Important! Make sure you download the freebie using the high-res download link at the end of the post – the preview images in this post are optimized for web and will NOT look pretty when printed!)
Print-Ready Collage Sheet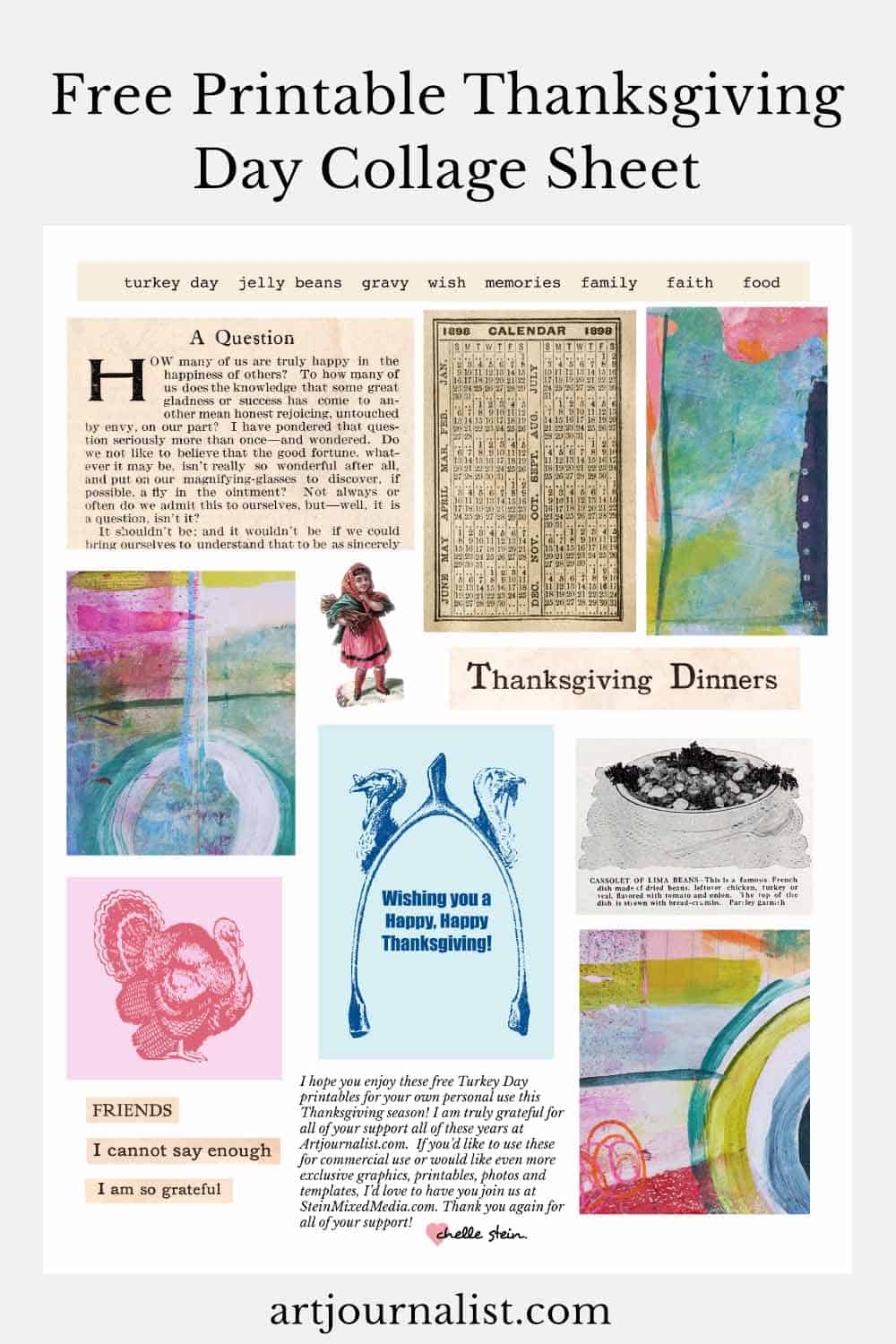 This Thanksgiving Day collage sheet is full of some fun stuff to use in your own journals!
Some of the items you see here are also inspired by a lot of the things I've been posting about at my blog Resalvaged.com, such as the vintage casserole recipes from 1923 for the Cassolet of Lima Beans!
I also posted over at Resalvaged the full article for the piece of text you see on the collage page from "A Question: Thoughts on Happiness in the Happiness of Others" – it's really quite a good read, especially at a time of year when we are supposed to be grateful!
The other thing you will see in this printable is a scanned version of a calendar from 1898 – which just so happens to be the same calendar as this year 2022! That calendar AND the cute little vintage girl on the sheet came from an old Victorian Era scrapbook!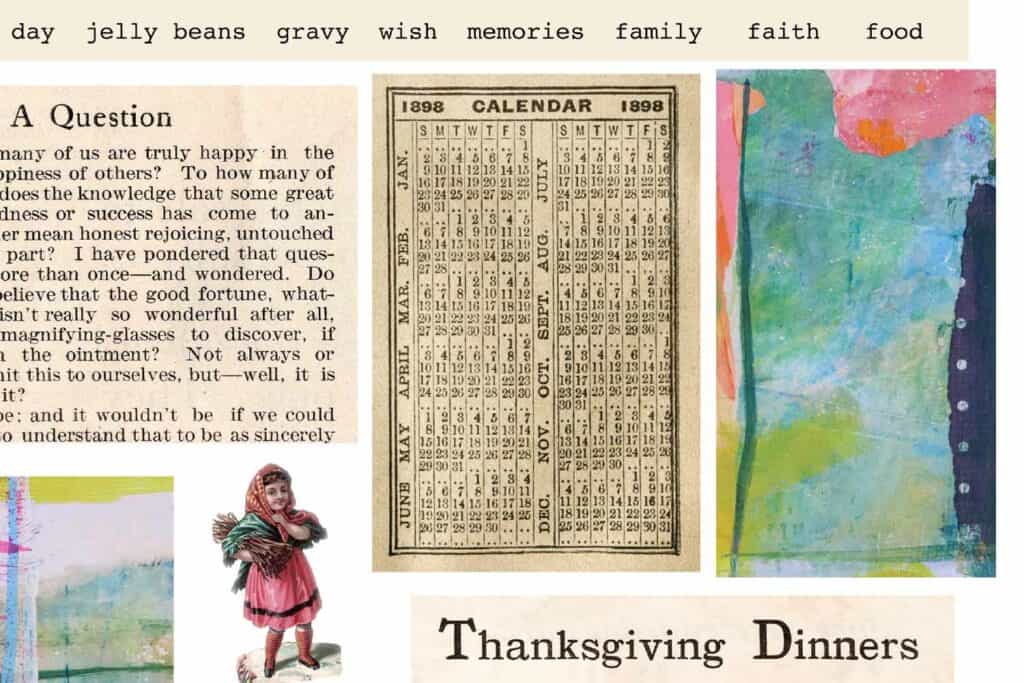 And, not to distract you *too much* from the free printable Thanksgiving collage sheets here, but I also have a really interesting post over at Resalvaged on what they were eating for Thanksgiving Dinner in 1914 – Oysters!?!
I love finding all the different vintage stuff I do – which is what inspired some of the other things you see on this free printable collage page, such as the word strips that were made in the same way I made them for my Out of Context Collage Sheets I've been making.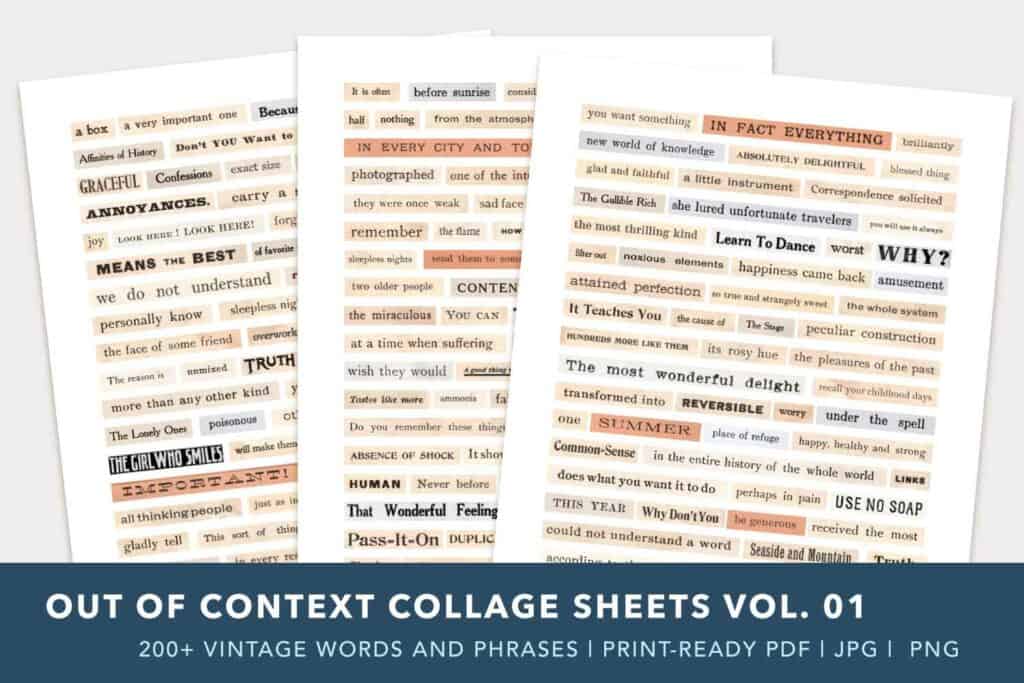 It's so fun for me to "cut" up word strips from old book pages I've scanned! Not to mention, the digital ones are a heck of a lot easier to store, sort, find + manage than my traditional way of making collage sheets from magazine words and phrases!
But Wait! There's More to This Printable!!!
I'm sorry, I am really getting distracted here lol – what can I say? It's Thanksgiving! I think the holidays gets all of us not making much sense.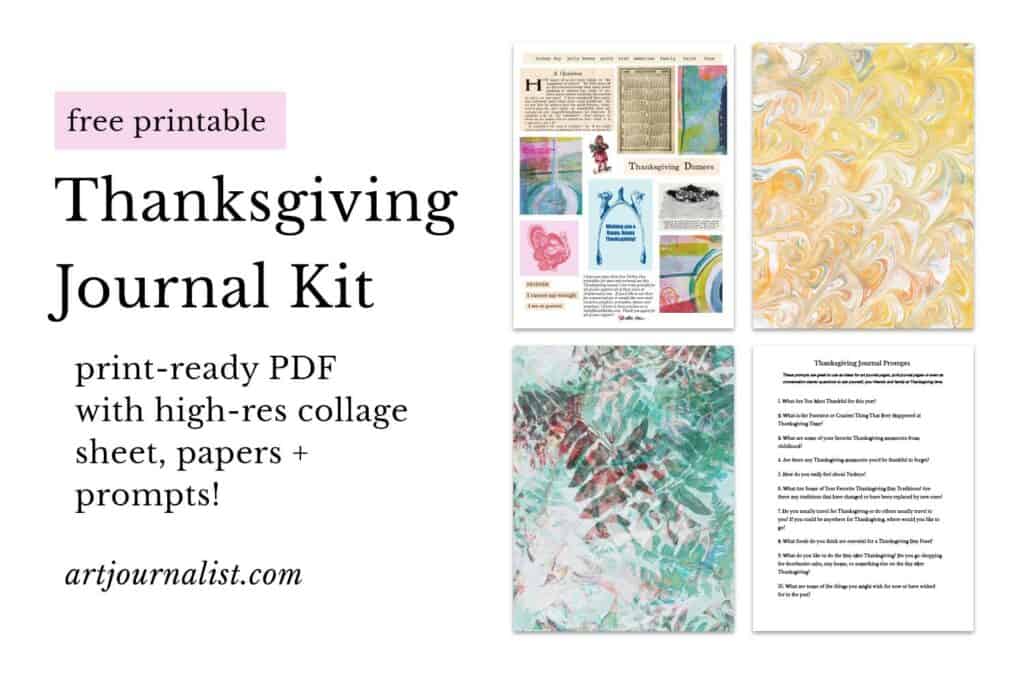 You can see in the picture above the two printable sheets of paper + the printable version of our Thanksgiving Day Journal Prompts too!
The yellow marbled paper is actually the high-resolution scan of the original paper I had used in my own Thanksgiving Day Journal. I love making marbled papers!
The other sheet of paper I made by layering + playing around with my scans of these gorgeous Vintage Watercolor Lithograph Illustrations by Anna Lindner, published in 1914.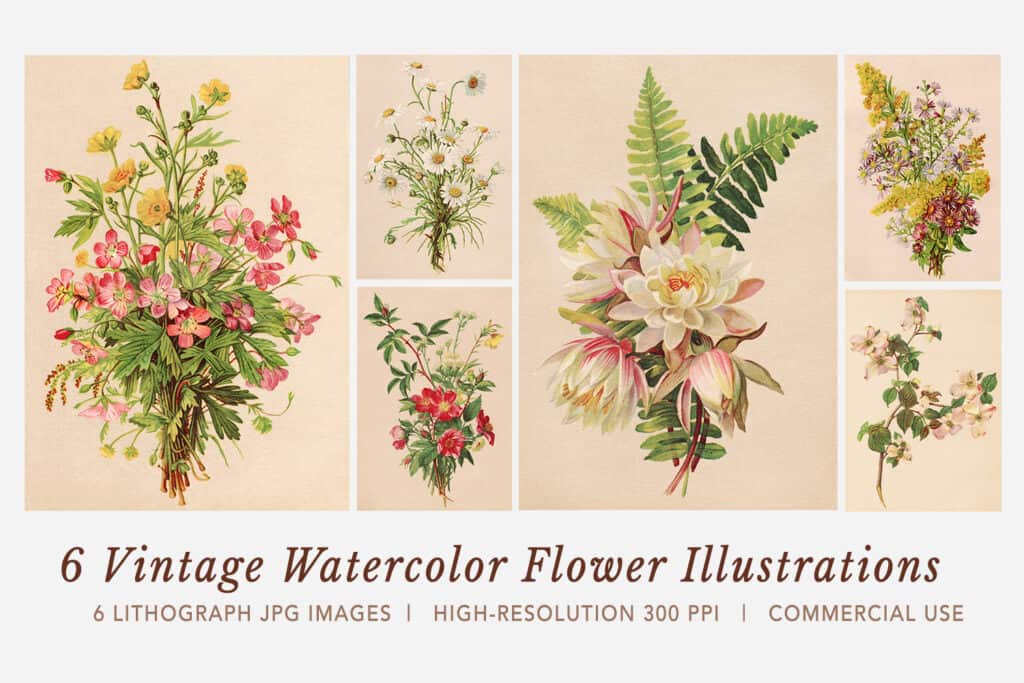 I love being able to scan vintage images and use them to create new printables for journals!
So yes, sorry I have gotten distracted lol…but the free printable kit I have for you is really quite the perfect little mini-kit for making your own Thanksgiving day journal!
It's also a good way to do some serious stash-busting too! The end of the year is coming a lot faster than I want it to!
---
Download Your Free Printable Turkey Day Journal Collage Sheet + Papers + Prompts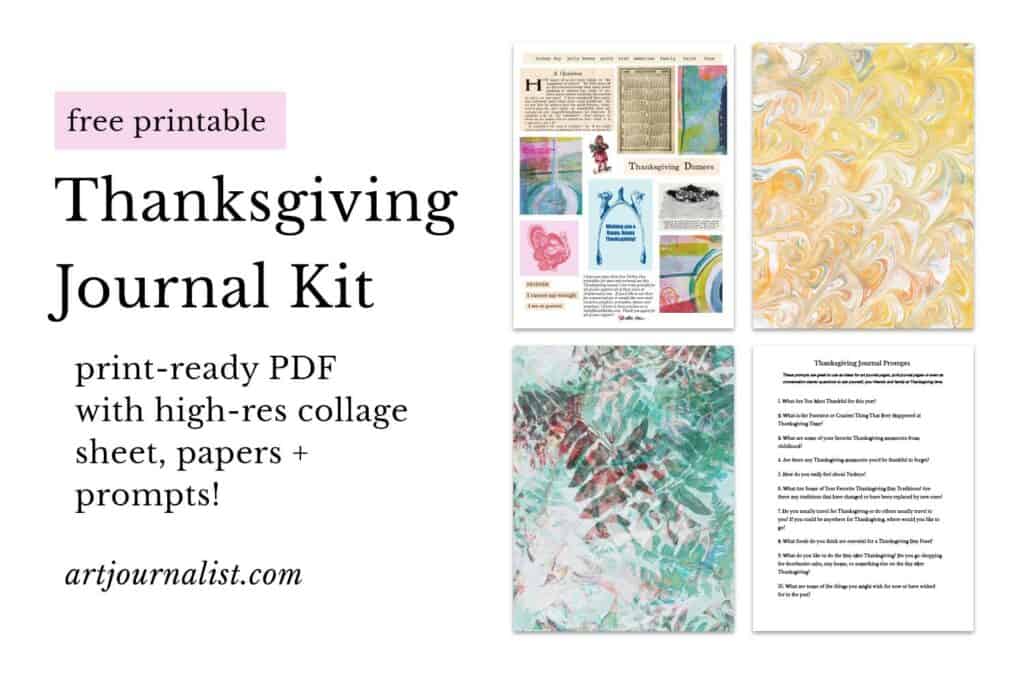 The download is a PDF image and you don't have to jump through any chaotic loops to get it either! Just click on the big blue button that says "Download The Free Printable".
This printable is free for you to use for your own personal, non-commercial projects in any way you like!
And of course, if you would like to use this printable commercially, or looking for even more vintage graphics, papers, and marbled backgrounds, we've got tons of stuff over at SteinMixedMedia.com for you to use for all of your creative projects!
Have a Happy, Happy, Happy Thanksgiving (or whatever day it is you download these – no judgement if it's next May or even not a Thanksgiving Project!) – and of course I always love to see what you create so tell me about it in the comments below or even email it to me if you like!
And truly, I am most thankful for all of you who have stuck with me through all of these years at Artjournalist.com – your comments + creative ideas you share with me always inspire me!
Join our facebook group!
Share what you're creating and working on, ask questions + connect with over 4000 creative artjournalists for inspiration + ideas!