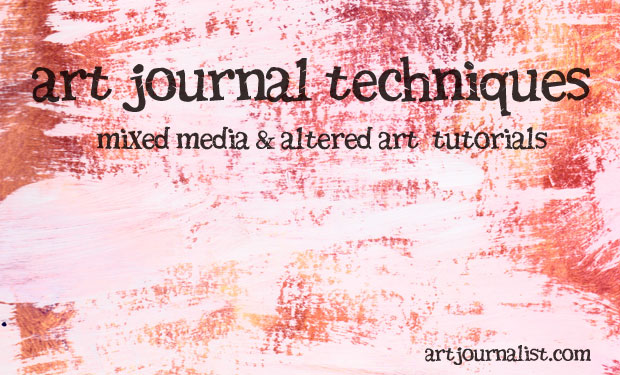 Please Note: This page is still under construction as we work hard on creating some tutorials and techniques for the site. If you'd like to be notified when we update this page, please sign up for our mailing list!
There are many art journal techniques to try – the possibilities are truly endless! If you're looking for something new to try or experiment with, browse through our art journal techniques below – you're sure to find plenty of inspiration and learn something new at the same time!
Here are some of the techniques that are popular and we are hoping to have tutorials up for very soon!
Working With Gesso – What is gesso and what is it used for? What are some things you can do with gesso? We will be very soon adding a tutorial about this popular medium in creating art journals.
Watercolor Ideas to Try: Painting with water color can be a lot of fun! Here are some techniques for watercolor painting to create some unique backgrounds for your art journal pages.
Acrylic Paints: Acrylic paints are a popular choice amongst art journalists. On this soon to be coming page we'll be sharing our tips for working with it – and the secret to finding pens that will write over acrylic paint!
Colored Pencils: We'll be adding some tutorials about shading techniques, using watercolor pencils and more once we get caught up on adding techniques and tutorials!
Markers/Pens: What can you do with a marker or a pen? We'll be sharing some ideas for basic shapes/doodles just about anyone can draw.
Collage: I LOVE collage and using paper epherema in my art journal pages. I'll be soon sharing some tips for this as well!
—————————————————————–
Stay Updated & Get Involved!
Sign Up for Our Monthly Newsletter
Follow Us on Facebook  (Be sure to check "Get Notifications" to ensure posts show up in your news feed!)
Join Our Community to Post Questions and Share Your Work in the Gallery